WASHINGTON, Nov. 25 (AFP) – President Barack Obama will head to next month's Copenhagen climate summit to offer the first US plan to cut carbon emissions, officials said, reviving hopes the closely watched meeting will succeed.
The Obama administration offered to curb US emissions by 17 percent from 2005 levels by 2020 -- less than calls by the European Union, Japan and UN scientists but the first numbers on the table by the world's largest economy.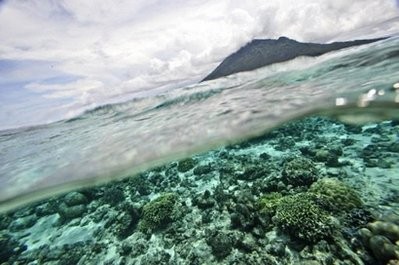 A coral reef is pictured off Bunaken Island marine protected national park in Manado, the US, in May 2009 (AFP file)
"The president going to Copenhagen will give positive momentum to the negotiations and we think will enhance the prospects for success," Carol Browner, Obama's top aide on climate policy, told reporters.
Nobel Peace Prize winner Al Gore said Wednesday Obama is leading a "significant" change in US policy towards global warming.
The White House said that Obama would be in Copenhagen on December 9 to offer to curb US emissions by 17 percent from 2005 levels by 2020, the first US plan to cut carbon emissions.
Gore, who won his Nobel in 2007 for work on climate change, said that Obama "took an important step" by announcing he would attend the Copenhagen talks.
"This action is another example of the significant change in policy on the climate crisis," said Gore.
"Those who feared that the United States had abdicated its global responsibility should take hope from these actions and work towards completing a strong operational agreement next month in Copenhagen and guidelines for negotiators to complete their work next year on a comprehensive treaty," he said.
Obama will address the meeting in Copenhagen on December 9, the day before he heads to Oslo to receive the Nobel Peace Prize.
Mike Froman, the deputy national security adviser, said Obama decided to go after sensing progress in talks with China, India and other emerging economies, which rich nations are pressing to do more on global warming.
A carefully worded White House statement said Obama was putting on the table the US offer "in the context of an overall deal in Copenhagen that includes robust mitigation contributions from China and the other emerging economies."
The White House said Obama would lay out a longer term plan for a 30 percent reduction of US emissions from 2005 levels by 2025, a 42 percent reduction by 2030 and an 83 percent cut by 2050.
Browner said the near-term offer was "in the range" of 17 percent depending on legislation in the deeply divided US Senate, which has delayed action on climate change until next year.
Foreign leaders and environmentalists hailed Obama's presence, hoping it would breathe new life into the December 7-18 conference meant to draft the successor to the Kyoto Protocol on climate change, whose obligations expire in 2012. Carbon emissions curbs: How key countries line up
UN climate chief Yvo de Boer said that if the US offer was clear-cut, it can "help pave the way for a successful outcome at Copenhagen."
But he also said that developed nations needed to come forward on another key part of negotiations -- pledging financing to help poorer nations cope with climate change.
"If the president comes in the first week to announce that, it would be a major boost to the conference," said de Boer, executive secretary of the UN Framework Convention on Climate Change in charge of the conference.
Danish Prime Minister Lars Loekke Rasmussen said he was "pleased" Obama would come to his country and hoped the visit would "contribute to an ambitious global deal in Copenhagen."
France's environment minister Jean-Louis Borloo, who was on his way to China, hailed Obama's offer and said it would help persuade Beijing.
"It's an extremely encouraging first response," Borloo told AFP.
Raymond C. Offenheiser, president of charity Oxfam America, said Obama had lived up to election pledges by showing he is "ready to roll up his sleeves to make a climate change deal happen."
"Today's announcement flies in the face of predictions of failure in Copenhagen well before the conference even begins," he said.
Obama campaigned on promises to fight global warming, a sharp reversal from his predecessor George W. Bush, who disputed evidence on climate change until late in his presidency and called the Kyoto Protocol unfair to rich countries.
But the US Congress has yet to complete legislation to mandate cuts in emissions, amid staunch opposition from many members of Bush's Republican Party.
Obama's offer reflects a bill narrowly passed by the House of Representatives in June that envisages cuts of 17 percent from 2005 levels by 2020 and by 83 percent by 2050.
A slightly more ambitious bill before the Senate talks of a 20 percent reduction from 2005 levels by 2020.
Senator John Kerry, who has spearheaded the bill, said Obama's announcement could sway not only other nations but also US lawmakers. Related article: Climate action 'can avert health crisis'.
"This could be one hell of a global game changer with big reverberations here at home," Kerry said.
"The Obama administration is now undeniably mustering bona fide leadership on climate change, not merely departing from Bush administration intransigence and ideology," said Kerry, who unsuccessfully challenged Bush for the White House in 2004.
Compared with the 1990 benchmark used by almost every other country, the US target only amounts to something like a four percent reduction in emissions of the gases blamed for global warming.
The European Union has vowed to reduce its emissions by 20 percent from 1990 levels before 2020, raising the target to 30 percent in the event of an international agreement. Japan has offered 25 percent, but attached conditions.