President Barack Obama unveiled plans for a fourth visit to the Gulf of Mexico next week, with his three-state tour reflecting the widening footprint of the US oil disaster zone.
Obama will visit Mississippi, Alabama and Florida, all of which have coastlines, fishing industries and tourist beaches damaged or threatened by the massive oil slick spawned by the April 20 explosion on a BP-operated rig.
On the 50th day of the disaster meanwhile, Obama lashed out at media "talking heads" who have criticized his response and said if it was up to him, he would fire BP CEO Tony Hayward over several flippant public comments.
"On Monday, June 14 and Tuesday, June 15, President Obama will travel to Mississippi, Alabama and Florida to further assess the latest efforts to counter the BP oil spill," the White House said in a statement.
Obama has made three previous trips to the disaster area, all of them to Louisiana, until now the main focus of efforts to mop up the oil slick, and to plug the ruptured well that caused America's worst environmental disaster.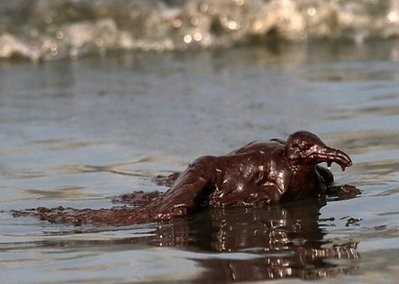 A laughing gull coated in heavy oil wallows in the surf on June 4, on East Grand Terre Island, Louisiana.
Earlier, Obama struck a tougher rhetorical tone on the disaster, despite insisting he was not playing politics or putting on a show for news cameras.
Hayward, whose sardonic English tones and comments, including a prediction that the Gulf spill would be "very, very modest," have irked some Americans, found himself directly in the cross-hairs.
"He wouldn't be working for me after making any of those statements," Obama said on the NBC "Today Show."
Hayward has since apologized for his remarks.
Obama revealed he had not spoken to Hayward, since the explosion on the Deepwater Horizon, saying there would be little point.
"When you talk to a guy like a BP CEO, he's going to say all the right things to me. I'm not interested in words. I'm interested in actions."
Hayward can expect another tough ride next week: a key House of Representatives panel Tuesday said he would testify on the disaster on June 17.
Obama, who made the latest of his three trips to the disaster zone last week, insisted he had no time for playing politics -- though his comments seem to be taking on an increasingly political cast.
He told NBC he was looking for some "ass to kick" as recriminations mount and oil reaps a dreadful toll on seabirds, Louisiana wetlands, teeming fishing grounds and idyllic beaches.
He rejected claims he had been too cool, or slow in his response.
"I'm going to push back hard on this because I think that this is an idea that got into folks' heads and the media is running with it.
"I was down there a month ago, before most of these talking heads were even paying attention to the Gulf," he said.
The undersea effort to capture spewing oil is accelerating.
Coastguard Admiral Thad Allen, who is heading the government response, said BP engineers had captured 14,842 barrels of oil over the last 24 hours from a containment cap placed over the well that blew on April 20, a significant increase from Monday's tally.
It remains unclear how much oil is spewing out of the busted wellhead, and officials have warned they will not be able to siphon off all of the excess crude until relief wells are dug -- likely not until August.
"We've gone from about 6,000 barrels up to almost 15,000," Allen said.
Later, asked about estimates the leak could be gushing as much as 25,000-60,000 a day, Allen told ABC News: "I don't know if it would be that high.
"Everything we know and everything we see is through the either remote sensors or remote-operated vehicles that are like looking through a particular keyhole at a particular time."
Underwater video footage of the wellhead, and the containment cap installed by BP last week still appeared to show substantial oil escaping into the sea from the ruptured well.
There was also sobering news on the scope of the environmental damage, as scientists said that they had found evidence of an undersea oil plume at a size of 3,300 feet more than 40 miles from the disaster site.
The National Oceanic and Atmospheric Administration (NOAA) said it had "fingerprinted" the oil to confirm it came from the BP well, though said the residue was currently at "low concentrations."
BP had previously said oil plumes, which could pose deep threats to marine life, had not been discovered.
Still oil prices were up on Tuesday, fluttering around 72 dollars a barrel as expectations of slipping inventories and short term demand beat out fears of a faltering economy. New York's main futures contract, light sweet crude for delivery in July, rose 55 cents to 71.99 dollars a barrel.
Commentators have drawn parallels between Obama's handling of the slick, and his predecessor George W. Bush's botched management of Hurricane Katrina that devastated the same coastline in 2005.
Political warning signs over the disaster are proliferating.
A recent CBS News poll showed only thirty-eight percent of Americans approve of the way the administration is dealing with the spill.
A Washington Post/ABC survey revealed more Americans disapprove of Obama's response to the oil spill than disapprove of Bush's Katrina performance.