WASHINGTON, Sept 19, 2009 (AFP) - US President Barack Obama geared up Saturday for whirlwind meetings next week with counterparts from China, Japan and Russia, but Iran's firebrand leader looked set to be left out in the cold.
As world leaders converge on New York for the annual UN general assembly, officials said Obama would kick off a flurry of high-profile bilateral encounters by meeting Chinese President Hu Jintao on Tuesday.
With the G20 summit of leading economies to follow in Pittsburgh later in the week and Obama due to make his first visit to China as president in November, they will look to resolve a simmering trade row.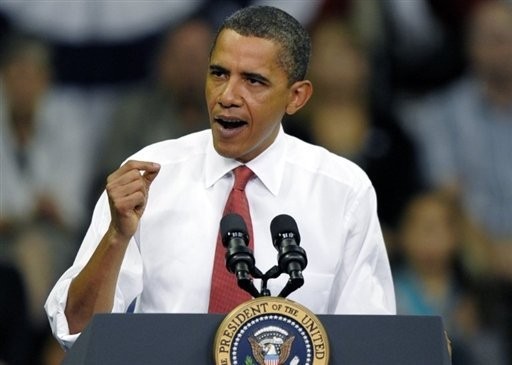 There is little chance of a one-on-one meeting between US President Barack Obama (photo) and Iranian counterpart Mahmoud Ahmadinejad (AFP photo)
The United States slapped punitive tariffs of an additional 35 percent on Chinese-made tire imports last week, prompting Beijing to lodge a complaint with the World Trade Organization (WTO).
Beijing says Washington's move violated WTO rules and has warned it will damage trade relations, but the United States has denied it amounted to protectionism.
With such a significant chunk of the world economy relying on the symbiotic US-China relationship, other world leaders will be hoping Hu and Obama can bury the hatchet.
The pair are also likely to discuss policy toward North Korea, whose leader on Friday reportedly told a Chinese envoy that the country was willing to engage in bilateral and multilateral talks on Pyongyang's controversial nuclear program.
Obama meets Russian counterpart Dmitry Medvedev the following day, looking to build on the positive response that greeted his revamped plans for missile defense in Europe.
Russia had condemned a scheme to install an anti-missile radar in the Czech Republic and missile interceptors in Poland drawn up by Obama's predecessor George W. Bush.
Obama announced Thursday that he would replace the shield with a more mobile system initially using mainly sea-based interceptors to target short and medium-range missiles, after a reassessment of intelligence determined they presented the more imminent threat from Iran.
Prime Minister Vladimir Putin hailed Obama's "brave" decision but said it should be followed by other US measures: to lift Soviet-era restrictions on the export of sensitive technology to Russia and to help its WTO membership bid.
Ties between Moscow and the West have slowly thawed since Obama took power on promises to "reset" their relations.
The White House said Obama would also meet with new Japanese Prime Minister Yukio Hatoyama on Wednesday, two weeks after he ended more than half a century of almost unbroken rule by the conservative Liberal Democratic Party (LDP).
Leaders of Hatoyama's center-left Democratic Party of Japan (DPJ) have already signaled they want a "more equal" relationship with the United States.
The new coalition government sworn in Wednesday is seeking to strike a balance between the demands of some of its own left-leaning and pacifist members, and the desire to maintain the traditionally strong US alliance.
The DPJ, which in opposition criticized the Japanese government for supporting "American wars," has vowed not to renew a naval refueling mission that supports US-led operations in Afghanistan when it expires in January.
While key powers and US allies will have their time with Obama in New York, there is little chance of a one-on-one meeting between the US president and Iranian counterpart Mahmoud Ahmadinejad.
"With respect to the Iranian leader, I don't think there is much likelihood that there will be an interaction," said US envoy to the United Nations Susan Rice.
"There is no obvious venue in which that would occur, and certainly we have no meetings or anything of the sort planned."
Secretary of State Hillary Clinton, however, meanwhile urged Tehran to move forward on engaging in talks with the United States.
"We have made clear our desire to resolve issues with Iran, diplomatically. Iran must now decide whether to join us in this effort," Clinton told foreign policy experts at the Brookings Institution.
As fresh protests over Iran's disputed presidential election rocked Tehran Friday, the White House condemned as "ignorant and hateful" new comments from Ahmadinejad denying the Holocaust.
Libyan leader Moamer Kadhafi, attending his first UN general assembly, has meanwhile been warned to be on his best behavior, and told not to gloat over Scotland's release of the Lockerbie bomber that so enraged many Americans.
Former Libyan foreign minister Ali Triki currently holds the presidency of the UN general assembly.