Massachusetts, Aug 25, 2009 (AFP) - US President Barack Obama will announce Tuesday a second term for Ben Bernanke as Federal Reserve chairman, following months of joint combat against the financial crisis.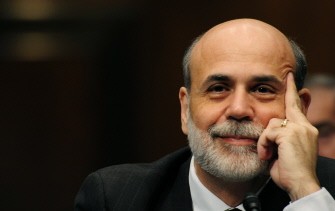 This July 22, 2009 file photo shows US Federal Reserve Board Chairman Ben Bernanke testifying before the Senate Banking Committee on Capitol Hill in Washington, DC (AFP photo)
A White House official said on condition of anonymity that Obama would break his vacation on well-heeled Martha's Vineyard off the US east coast to re-appoint Bernanke to a second four-year term beginning in January.
Obama is scheduled to deliver the statement, with Bernanke by his side, in the resort town of Oak Bluffs at 9:00 am (1400 GMT) before US markets open.
White House chief of staff Rahm Emanuel told the Wall Street Journal that Obama was reappointing the cerebral Bernanke because he credits him with "pulling the economy back from the brink of depression."
Bernanke was selected as Federal Reserve chairman by Obama's predecessor, George W. Bush, in 2005 to replace retiring Fed chairman Alan Greenspan, who served for 18 years and presided over a golden era of economic prosperity.
At the tail end of Bush's second term and the beginning of Obama's presidency, Bernanke has been a key player in stabilizing markets and prescribing the antidote to the worst crisis since the Great Depression of the 1930s.
He has enjoyed broad support on Wall Street, for the sweeping and sometimes unorthodox methods he has used to save the banking sector, redefine the financial industry and keep the recession from turning into a depression.
But Obama may face some opposition in Congress to his decision to reappoint the central banker.
US Senate Banking Committee chairman Chris Dodd vowed to hold a "thorough and comprehensive confirmation hearing" for Bernanke's renomination, which requires Senate confirmation.
"I still have serious concerns about the Federal Reserve's failure to protect consumers and I strongly believe these responsibilities should go to an independent consumer financial protection agency," Dodd said in a statement, while noting that Obama's decision was "probably the right choice."
Obama's move may be calculated to send a signal of continuity and to reassure financial markets that are still fragile, despite signs the global economy is returning slowly to growth -- especially outside the United States.
Changing the Fed chairman at such a time might have spooked investors and been seen as a dramatic reversal of policy, considering Bernanke was such a key player in fighting off the crisis.
Bernanke, 55, has worked closely with the Treasury Department and the White House in plotting a route out of the recession and stabilizing and reforming the debt-laden US financial sector.
He now faces the delicate decision of how quickly to scale back the massive government effort to pump liquidity into the financial system.
The central bank said earlier this month that it would begin to pull back from the purchase of Treasury bonds and mortgage-backed securities, in a sign seen by analysts of a step away from extraordinary support of the economy.
Bernanke, meanwhile, said just last week that prospects for global recovery appeared good despite financial market strains, but cautioned that any economic growth would be slow at first.
"After contracting sharply over the past year, economic activity appears to be leveling out, both in the United States and abroad, and the prospects for a return to growth in the near term appear good," he told central bankers at a meeting in Jackson Hole, Wyoming.
While fears of financial collapse had receded substantially, Bernanke said that critical challenges remained as the world grappled with a financial crisis that sharply halted growth following a US home mortgage meltdown.
A former economics professor, Bernanke was once chairman of the Council of Economic Advisors under Bush.
He famously railed against the specter of deflation, which he saw as one of the factors which prolonged the Great Depression, and that view has informed his thinking on the financial crisis that has battered the US economy during his moment in the spotlight of history.