BREGA, Libya, March 4, 2011 (AFP) - US President Barack Obama said all options were on the table for driving Libya's Moamer Kadhafi.

Despite grave reservations expressed by the US military command, Obama said a no-fly zone was among the "full range" of options as he demanded that Kadhafi "step down from power and leave".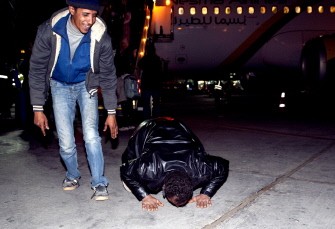 Egyptians who fled from Libya kiss the ground as they arrive from Djerba, Tunisia, on March 3, 2011 in the Cairo international airport in Egypt. AFP
Forces still loyal to the veteran strongman, who has ruled the oil-rich North African state for 41 years, have been bombing rebel-held positions in Libya's east and thousands of people are desperate to flee the country.
The latest air raids around the vital oil installation of Brega were designed to scare the rebels off rather than inflict serious damage, Kadhafi's son Seif Al-Islam told Britain's Sky News.
"This is the oil and gas hub of Libya," he said, vowing the regime would do all in its power to recapture the port.
"All of us, we eat, we live because of Brega. Without Brega six million people have no future because we export all of our oil from there."
Rebels managed to beat off a dawn attack on Brega on Wednesday in the first real military battle since the Libyan uprising began on February 15.
The patchwork Libyan opposition now controls swathes of eastern and western Libya including the city of Benghazi and some oil installations. Kadhafi remains firmly in control of the capital Tripoli.
More than 100,000 people have left Libya to escape the violence, which has killed at least 1,000, according to conservative UN estimates.
The International Criminal Court's prosecutor said in The Hague that Kadhafi and key aides would face investigation over alleged crimes against humanity.
"We have identified some individuals with de facto or formal authority, who have authority over the security forces," Luis Moreno-Ocampo told journalists.
"They are Moamer Kadhafi, his inner circle, including some of his sons."
Kadhafi's ally President Hugo Chavez of Venezuela joined the diplomatic offensive, proposing an international mediation mission to pull Libya from what Russian President Dmitry Medvedev said was the "verge of civil war".
The Chavez proposal got short shrift from the West, and Libyan rebels in their eastern fiefdom argued that Kadhafi was free to flee to Venezuela if he chose.
"We have a very clear statement. It's too late. Too much blood has been spilt," Mustafa Gheriani, a spokesman for the opposition's self-declared national council in Benghazi, told AFP.
The rebels would "never negotiate with anybody on the blood of our people", he said.
"The only way we can negotiate with Chavez is if Kadhafi goes to Venezuela (for good). Then we'll ask him to have Kadhafi back in Libya to be prosecuted by our justice."
Obama told a White House news conference that Kadhafi's "appalling violence" on his own people showed that he had lost all legitimacy.
"Going forward, we will continue to send a clear message: The violence must stop. Moamar Kadhafi has lost legitimacy to lead and he must leave," he said.
Obama said he did not want to be "hamstrung" in his options and confirmed that a no-fly zone was under consideration. Britain and France back the idea, but there are divisions internationally and even within Washington.
Defense Secretary Robert Gates and top US military officials warned Wednesday that imposing no-fly zone would be a major military undertaking, and would necessarily require air strikes to take out Libya's air defences.
"Let's just call a spade a spade," Gates told US lawmakers, decrying "loose talk" about a no-fly zone.
A major European operation is under way to airlift from Tunisia thousands of people who have fled the bloodshed in Libya, and Obama also offered US planes to repatriate Egyptian refugees.
Egyptians ferried from Tunisia to Cairo on a French-chartered plane said they had been singled out for ill-treatment in Libya, with Kadhafi accusing them of selling hallucinogenic drugs and stirring up the revolution.
Mustafa Abdulrahim, a 40-year-old stonemason, said Egyptians were "beaten, tortured and imprisoned at the Tripoli international airport" as they tried to leave the country.
Libyan National Oil Corporation head Shukri Ghanem told AFP that normal production -- estimated at 1.6 million barrels per day -- had been "halved" because foreign workers including key technicians had fled the nation.
The Libya disruption has been a factor in driving up world oil prices of late, along with unrest against authoritarian regimes across the Arab world.