The United States and China on Tuesday agreed to cooperate on a host of issues from climate change to North Korea as US President Barack Obama pledged positive and comprehensive ties with Beijing.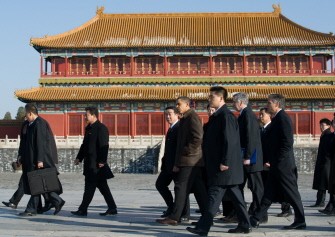 US President Barack Obama (C) tours the Forbidden City in Beijing, on November 17, 2009. (AFP Photo
Obama and Chinese President Hu Jintao also said they would work together to resolve trade frictions between the world's number one and three economies after their talks, the centrepiece of Obama's visit to the Asian giant.
In statements to the press, Obama said the two countries -- the world's top two emitters of greenhouse gases -- had "agreed to work toward a successful outcome" at crucial UN-backed climate change talks in Copenhagen next month.
"Our aim there is... not a partial accord or a political declaration, but rather an accord that covers all the issues in the negotiations and one that has immediate operational effect," the US leader said.
Hopes had dimmed for a statement on how to combat global warming, after officials said following a weekend Asia-Pacific summit in Singapore that it was unrealistic to expect leaders to reach a binding pact in the Danish capital.
But Obama seemed to suggest that a deal could still be on the table.
"As the two largest consumers and producers of energy, there can be no solution to this challenge without the efforts of both China and the United States," he said.
On trade, Hu told reporters the two sides would "continue to have consultations on an equal footing to properly resolve economic and trade frictions."
Washington has angered China in recent months by imposing tariffs on Chinese tyres and preliminary duties on some steel products. Beijing countered by launching its own probes into US car imports and chicken meat.
Trade seems likely to top the agenda following a series of tit-for-tat moves in recent months that has sparked angry accusations from Beijing that the United States is engaging in blatant protectionism.
On Monday, a Chinese commerce ministry spokesman lamented "an increasingly protective US". Hours later, US Commerce Secretary Gary Locke rejected those comments.
Their talks follow Obama's town hall-style meeting with students in Shanghai streamed live on the Internet on Monday where he acknowledged difficulties in China-US ties but said the two countries need not be adversaries.
Obama was later to visit the Forbidden City and meet parliamentary speaker Wu Bangguo before a lavish state dinner hosted by Hu.
The US president wraps up his visit to China on Wednesday with talks with Premier Wen Jiabao and a visit to the Great Wall. He then heads to South Korea, the last stop on his four-country tour.