US President Barack Obama said Tuesday he wanted tough new UN sanctions imposed on Iran within "weeks" as visiting French President Nicolas Sarkozy blasted Tehran's "mad" nuclear race.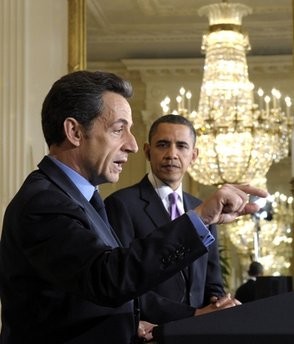 French President Nicolas Sarkozy, left, speaks as President Barack Obama, right, listens, in the East Room of the White House in Washington, Tuesday, March 30, 2010. (AFP Photo)
But Obama admitted that key world powers had "not yet" closed wide gaps on the specifics of the biting new measures, as he and Sarkozy made an apparently coordinated effort to up pressure on China and Russia for action.
"My hope is that we are going to get this done this spring," Obama said, warning, as he faces rising domestic pressure on the issue, that he was not interested in waiting months for the new United Nations measures to be imposed.
"I am interested in seeing that regime in place within weeks," Obama said during a joint press conference with Sarkozy which saw both leaders go out of their way to profess US-French friendship.
Sarkozy indicated after his closed Oval Office talks with Obama that months of diplomacy to prepare the way for sanctions must now come to fruition.
"The time has come to take decisions. Iran cannot continue its mad race," Sarkozy said, adding that Europe would stand united in the push for sanctions.
The joint presidential pressure came as G8 foreign ministers meeting in Canada urged "in the strongest possible terms" that Iran cooperate with five permanent UN Security Council members plus Germany.
US Secretary of State Hillary Clinton predicted the next few weeks would see "intense negotiation" in the Security Council on Iran, which the West suspects of developing nuclear weapons, a charge Tehran denies.
The Obama administration has spent months trying to convince China, which has been reluctant to embrace tough sanctions on Iran, to join the international effort.
Russia has been more amenable, but it is still unclear whether Moscow will embrace the "biting" measures envisaged by Washington.
"Do we have unanimity in the international community? Not yet. And that's something that we have to work on," Obama said, admitting that Iran was a major oil producer and had a plethora of commercial partners.
Sarkozy and Obama said their talks also covered a long list of international issues, including Afghanistan, US peace efforts in the Middle East and the global economic recovery.
The French leader said it was "great news" that the Obama administration had now made financial reform its top priority.
The issue has provoked friction between Washington and Europe, with the United States less willing to call for stringent efforts to regulate global hedge funds than some key leaders in Europe.
Obama also promised that a Pentagon tender for a new airborne tanker for the US air force would be "free and fair."
Sarkozy said he trusted Obama, and that the European aerospace giant EADS would resubmit a bid, following a row over claims the United States was favoring US-based Boeing for the contract.
Both leaders sought to scotch rumors of bad chemistry between them, calling one another by their first names, ahead of an intimate dinner hosted by the Obamas for Sarkozy and ex-supermodel wife Carla Bruni.
Obama called Sarkozy "my dear friend," while Sarkozy appeared eager to end years of US-French tensions.
"There may be disagreements, but never for the wrong reasons. And as we are very transparent on both sides, there's confidence, there's trust," he said before the two presidents walked out of the press conference with hands over each other's shoulders.
The Sarkozys took time to sample the culinary delights of the US capital, stopping in at famed restaurant "Ben's Chili Bowl," which Obama has also visited, to eat half-smoke hot dogs.
The two leaders met at divergent moments of their political fortunes.
Sarkozy was forced to backtrack on some of his signature reforms, and suffered a humiliation in recent regional elections.
But Obama is reveling in his historic health reform law and clinched a landmark nuclear arms reduction deal with Russia last week.
The private dinner between the couples marks the first time a foreign leader has dined with the Obamas in their private residence at the White House and is seen as a fence-mending exercise after Obama bowed out of a European summit.
"You invite an important head of state to a state dinner, but a friend you invite to your home," said one western diplomat.
But the White House denied it was going out of its way to satisfy Sarkozy with presidential trappings.
"It doesn't seem totally out of the ordinary," Obama spokesman Robert Gibbs said.
The French couple left the White House late Tuesday after their two-hour dinner and headed to Andrews Air Force base where they caught their flight back to Paris.