President Barack Obama warned that the US commitment to Afghanistan was "not open-ended" after meeting his war cabinet to discuss the deployment of tens of thousands more troops.
The fresh caution from Obama came as The Washington Post and The New York Times reported that the US ambassador to Kabul had sent memos to Washington expressing deep concern over the deployment of more troops to the country.
The classified cables reportedly detailed his strong reservations against sending reinforcements until Afghan President Hamid Karzai's government shows it can tackle insipid corruption that has spurred the Taliban's resurgence.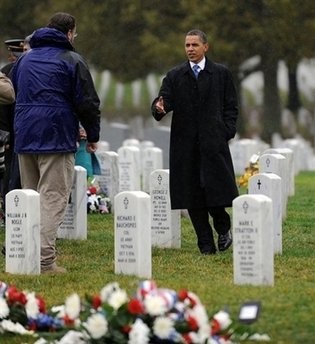 US President Barack Obama greets a visitor during a walk through Arlington National Cemetery in Arlington, Virginia.
Ambassador Karl Eikenberry
also expressed worries over Karzai's erratic behavior, according to US officials familiar with the memos and quoted in the reports.
The correspondence was sent ahead of Obama's critical war cabinet meeting Wednesday on what course to pursue against the bloody insurgency, with his options said to be whittled down to four.Related article: US envoy to Kabul urges against troop boost
After the meeting, White House officials said the president was yet to reach a decision as he leaves on his first presidential tour of Asia with the question of Afghanistan certain to dominate his talks.
"The president believes that we need to make clear to the Afghan government that our commitment is not open-ended," a White House official said, briefing journalists on Obama's latest round of talks with military chiefs.
"After years of substantial investments by the American people, governance in Afghanistan must improve in a reasonable period of time to ensure a successful transition to our Afghan partner," the official said.
Americans, still reeling from last week's shooting at a Texas military base, may yet have to wait a few weeks before the commander-in-chief unveils one of the most important decisions of his presidency.
Four options were on the table as Wednesday's talks began in the White House Situation Room with Defense Secretary Robert Gates, Secretary of State Hillary Clinton, Vice President Joe Biden and Chairman of the Joint Chiefs of Staff Admiral Mike Mullen.
Top US and NATO commander General Stanley McChrystal, who has called for an extra 40,000 troops on the ground, was also participating in the eighth such war council since August.
According to The New York Times, one of the options before Obama is McChrystal's proposal which would significantly boost the 68,000 troops already in Afghanistan.
Another proposal is to send in 30,000 extra troops, while a third envisages ramping up the numbers by between 20,000 and 25,000, the Times said.
A fourth option had been added recently, but administration officials refused to spell out any details of troop numbers.
Gates, a Republican who served under the previous administration and was kept in post by Obama, is said to favor the option of 30,000 extra troops, along with Clinton and Mullen, the Times reported.
But the US president is said to have voiced concerns about how the governments in Afghanistan and Pakistan would support the US effort.
One official told the Times: "He's simply not convinced yet that you can do a lasting counterinsurgency strategy if there is no one to hand it off to."
The decision has been complicated by the fraud-tainted elections in Afghanistan which saw Karzai re-elected to a second term.
Karzai, who was installed as Afghan leader following the 2001 ouster of Taliban militants by a US-led invasion, has largely fallen from favor amid persistent allegations of corruption.
Public opposition to the war is also growing, with some 800 US soldiers having lost their lives in Afghanistan and the number of casualties rising. October was the deadliest month for US forces there since 2001.
Most Americans oppose sending in more troops, a poll said Wednesday, with 56 percent of respondents to a CNN/Opinion Research Corporation saying they were against it, and 58 percent opposing the conflict.