President Barack Obama's health reform faces a landmark first test in the US Senate Saturday as Democratic leaders strive to lock down support for a vote that would allow them to launch a formal floor debate on the proposal.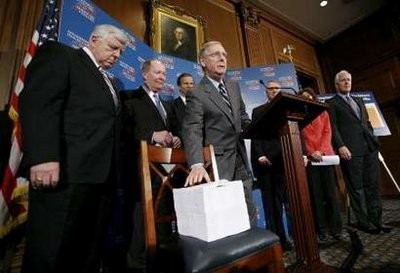 Senates reference the health care bill previously unveiled by Senate Majority Leader Harry Reid during a press conference on Capitol Hill in Washington November 20, 2009.
Adding to their confidence, a wavering Democrat, Senator Ben Nelson of Nebraska, said he would vote with his party on Saturday while warning he might side with Republicans in subsequent fights.
"We are not assuming a thing. We are working hard to bring all Democrats together for the 60 votes necessary to proceed to this historic debate," Senator Dick Durbin, the party's Senate vote counter, told reporters.
Democrats were increasingly confident they would win the procedural vote on what would be the most sweeping overhaul of its kind in four decades, extending health care coverage to an estimated 31 million Americans at a price tag of about 848 billion dollars through 2019.
The White House, which has aggressively courted undecided Democrats, declared the legislation "a critical milestone" on Obama's signature issue and warned "the nation cannot wait another year for health insurance reform."
Democrats needed 60 votes to override any delaying tactics from Republicans and approve a resolution that would formally start the debate -- a hurdle shaping up as the legislation's biggest test to date.
Democratic Senate Majority Leader Harry Reid was already looking beyond the early skirmish to win the broader battle by courting a handful of swing-vote, centrist lawmakers to vote in favor of the overhaul itself.
After next week's Thanksgiving holiday break, Reid will speak to individual senators to "make sure they each have some peace of mind about what the bill does and can support it, and if they have a concern, address it," said Durbin.
With the 100-seat Senate's 40 Republicans seemingly united against the overhaul, vote counters focused on three centrist Democrats -- Nelson, Louisiana's Mary Landrieu and Blanche Lincoln of Arkansas, whose vote was perhaps most in doubt because she faces a tough reelection campaign in 2010.
Republicans stepped up their attacks, with Senate Minority Leader Mitch McConnell denouncing "a trillion-dollar experiment in government-run health care" and branding the bill a "2,074-page bureaucratic nightmare."
But Durbin shot back that "the Republican health-care reform bill is zero pages long, because it provides zero relief for the American people and the problems they face with health care today."
The House of Representatives approved its own trillion-dollar version of the measure on November 7, squeaking through on a 220-215 margin only after toughening restrictions on federal funds subsidizing abortions.
The Senate version does not include that stricter language, and changes several other key provisions.
Nelson, who has called for tougher abortion curbs, announced he would vote Saturday to start the debate but would join Republicans later in opposing the measure if his proposed changes to the bill were defeated.
If, as expected, the House and Senate approve different versions, they would need to work out their differences and approve the same legislation to send to Obama to sign into law.
The United States is the world's richest nation but the only industrialized democracy that does not provide health care coverage to all of its citizens, with an estimated 36 million Americans uninsured.
Washington spends more than double what Britain, France, and Germany do per person on health care, but with no meaningful edge on the quality of care, according to the Organization for Economic Cooperation and Development (OECD).
And the United States lags behind OECD averages in key indicators like life expectancy and infant mortality.