Iran's nuclear chief says his country needs 20 industrial-scale uranium enrichment facilities, a dramatic expansion in defiance of U.N. demands it halt the program.
Ali Akbar Salehi's announcement comes days after the Iranian government approved a plan to build 10 new uranium enrichment plants.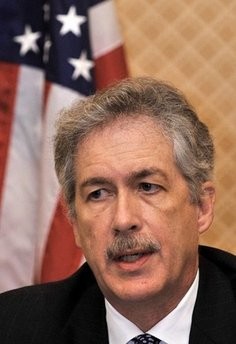 US Undersecretary of State for Political Affairs William Burns speaks at a press conference in Bishkek on July 2009
The official IRNA news agency quotes Salehi as saying Iran needs the 20 sites because it aims to generate 20,000 megawatts of electricity through nuclear power plants over the next 20 years.
President Mahmoud Ahmadinejad recently said Iran was considering whether to scale back cooperation with the International Atomic Energy Agency after it approved a resolution censuring Iran over its nuclear program.