Clean-up efforts in the Gulf of Mexico oil spill extended to Texas and Lake Pontchartrain, Louisiana, as BP dismissed reports of deeper financial woes.
Officials said crews collected tar balls and waste from Lake Pontchartrain, the vast estuary near New Orleans, as rough weather continued to hamper the containment and skimming effort near the spill site in the Gulf.
US Coast Guard Admiral Thad Allen said the huge spill was now threatening all the states along the Gulf coast from Florida to Texas and that rough seas since the passage of Hurricane Alex had hurt the effort.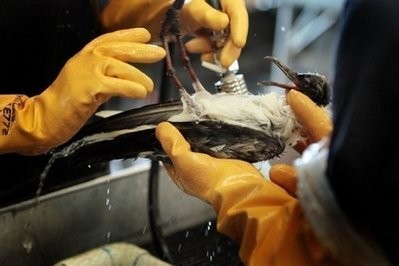 Oil is cleaned off of a gull at a wildlife rehabilitation center in Buras, Louisiana, on July 5.
The first Atlantic hurricane of the year passed through the Gulf of Mexico last week without too much alarm for the oil containment efforts, but Allen said two nearby storm systems were being closely watched.
"We're watching very, very closely the swells and waves that might be generated by this current storm system," he said.
"Sometime in the seven to 10 days we'll look for a window of opportunity to put the containment cap on at the same time we will go on and continue with the drilling of the relief well."
A BP spokeswoman in London denied the firm was planning to sell new stock to a strategic investor to raise money, amid reports the British government is working on a crisis plan if the company is sunk by the disaster.
"We are not issuing any new equity," she said. "We welcome new shareholders to come onto the shareholder register and we welcome existing shareholders who want to take a bigger amount of shares."
The Times newspaper in London reported that officials at the Department of Business and the Treasury were already considering contingencies for BP's potential collapse.
"It is not clear how bad this will get, but the government needs to be prepared for any eventuality," an anonymous source said to be familiar with the talks was quoted as saying.
BP has forked out some 3.12 billion dollars in spill-related costs and has promised to pay another 20 billion dollars into an escrow fund to compensate Americans affected by the spill.
The BP-leased Deepwater Horizon rig sank on April 22, two days after an explosion that killed 11 workers, unleashing the worst environmental disaster in US history.
Sunday, tar balls from the spill arrived on beaches in Texas, more than 500 miles (800 kilometers) away, though it was unclear how the crude got there.
Tests showed they did come from the BP Deepwater Horizon well but scientists and officials were working to determine if they arrived in Texas by currents or via ships operating in the vicinity of the well head.
The tar balls in Lake Pontchartrain were also being tested.
Some 792 kilometers (492 miles) of Gulf Coast shoreline has been oiled, and fishing ground closures and tourist cancellations threaten financial ruin for residents who have reacted angrily to BP's failure to cap the spill.
Up to 60,000 barrels of oil a day is believed to be leaking into the Gulf of Mexico, far outpacing the collection efforts of a system that is capturing around 25,000 barrels a day.
Officials hope to more than double that capacity to some 53,000 barrels a day by hooking up a third containment vessel, the Helix Producer, to the system that captures and siphons away the crude.
"There is a partial hookup right now and they can sustain that unless they have really severe sea states," said Allen, the US official coordinating the spill response.
"We won't know for several hours whether they're able to do it. It currently is a work in progress."
Officials were also testing a mega-tanker, A Whale, which could boost efforts to skim spilled crude from the sea surface.
The ship is believed to be able to suck up to 500,000 barrels (21 million gallons) of oily water a day through its "jaws," a series of vents on the side of the ship.
By comparison, more than 500 smaller vessels in 10 weeks have only managed to collect some 31.3 million gallons of oil-water mix between them and high waves forced most of the boats to halt operations on Tuesday.
It will likely be mid-August at the earliest before the ruptured well is permanently capped by injecting mud and cement with the aid of relief wells.
The high end of the oil leak estimates means it has now surpassed the 1979 Ixtoc blowout, which took nine months to cap and dumped an estimated 3.3 million barrels (140,000 million gallons) into the Gulf of Mexico.
It is topped only by the deliberate release of six to eight million barrels of crude by Iraqi troops who destroyed tankers and oil terminals and set wells ablaze in Kuwait during the 1991 Gulf War.