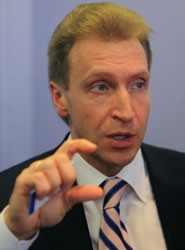 Mr.Igor Shuvalov, advisor to Russian President Vladimir Putin
Asked about the possibility of US strikes on Iran if talks between the UN and Tehran break down, a senior adviser to Russian President Vladimir Putin, Mr. Igor Shuvalov, said: "We must in no way allow discussions on sanctions to reach that point. First of all in order to prevent the barrel (of oil) reaching 100 dollars, or even more."
The price of oil could pass 100 dollars a barrel in the case of a lengthy stand-off with Iran over its nuclear programme, Igor Shuvalov said Wednesday.
Shuvalov, who is Putin's liaison with the G8 group of nations, was speaking to diplomatic journalists in Paris.
Russia's position on Iran "will be conditioned by the imperatives of international security. It is not that we are stubbornly loyal to Iran, but we need to take into account all the negative consequences," he said.
Moscow and Beijing remain opposed to US and European calls for economic sanctions on Iran over its nuclear programme. The powers are due to meet next week in Paris to try to coordinate a common position.
Source: AFP