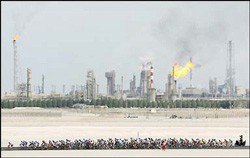 An oil refinery in Qatar. A major energy forum has opened in Qatar with no significant decisions (AFP Photo)
"The market determines the price," Saudi Arabian Oil Minister Ali al-Nuaimi said on his arrival in Doha for an informal meeting of the 11-member OPEC on the sidelines of an international energy forum.
"You know and I know that the reason for the price being where it is is not shortages of supply."
In Asian trade, oil prices slipped off record highs above 75 dollars reached on Friday, with New York's main contract, light sweet crude for June delivery, at 74.54 dollars a barrel.
Dealers said they expect ongoing concerns over Iran's nuclear programme will keep crude prices above 70 dollars until the crisis is resolved.

Global Finance Chiefs Act on Oil Prices
The three-day gathering Global finance chiefs was to wind up Sunday with a meeting of the World Bank's policy-setting committee where a 20-billion-dollar proposal for alternative energy investment in developing countries was under consideration.
British Chancellor of the Exchequer Gordon Brown said last month he would call for the World Bank facility, arguing that "the developed world has a responsibility to help developing economies meet their energy needs in an environmentally sustainable way."
Energy needs were also very much on the minds of the Group of Seven industrial powers, who on Friday declared that it was "crucial" for oil producing countries to boost infrastructure investment in the face of soaring crude oil prices.
While G7 finance leaders -- representing Britain, Canada, France, Germany, Italy, Japan and the United States -- agreed that the global economic outlook remained favorable, they warned that oil prices were a menacing cloud on prospects.
Stepped-up pressure for increased oil production prompted a blunt reminder from the Organization of Petroleum Exporting Countries (OPEC) that oil consuming nations bore a responsibility to build more refineries in order to ease supply constraints.
OPEC representative Adnan Shihab-Eldin, in a statement Saturday to the International Monetary Fund's governing body, insisted that the market was currently well-supplied, while other cartel officials blamed "geopolitical" jitters and speculation for the high prices.
Source: AFP