Global oil prices have more than doubled from around 30 dollars in 2003, and analysts say the forces pushing up prices show no signs of easing, with 100-dollar-a-barrel oil a possibility in 2008.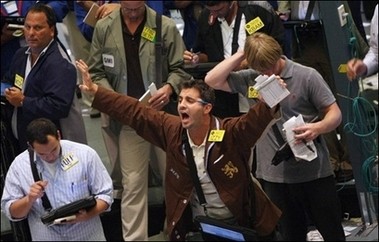 Traders work in the crude options pit at the New York Mercantile Exchange, in August, in New York City.
Oil prices have been hovering around 80 dollars a barrel in recent weeks after hitting all-time highs in New York and London. Tight supplies, geopolitical worries, storms and strong global economic growth have all contributed to high prices.
"The two arguments against 100-dollar oil, the ability of technology to raise new supply and the ability of prices to limit demand, are falling quickly by the wayside," said Jeffrey Rubin, an economist at CIBC World Markets.
"Gone are Big Oil's smug assurances that their technical prowess will untap huge hitherto undiscovered reserves of cheap crude. What we hear instead through the voice of the US National Petroleum Council are warnings of depletion and steadily rising prices."
Some analysts are surprised that prices keep going up despite the conventional wisdom that high prices will curb demand.
But Rubin said strong growth in China and other developing nations has taken up any slack in demand from the wealthier nations.
"Why haven't soaring prices shackled demand? They actually have in some places like the carbon conscious economies of Western Europe," he said.
"But such reductions have become a footnote to the world demand curve, which is no longer shaped by energy consumers in the (industrialized) economies, but by the seemingly insatiable appetite of newly empowered consumers in developing countries whose economies are industrializing at breakneck speeds."
A CIBC report notes that China consumes more than double its daily production of 3.5 million barrels, while other fast-growing Asian nations like India, Malaysia and Thailand are also boosting petroleum use.
Producers like Russia and China have failed to fill the gap and Iraq, once a major producer, has been slow to increase production, the report noted.
Ben Tsocanos, an analyst at Standard's & Poor, said markets remain concerned about a political crisis in key oil producing nations like Iran which borders war-torn Iraq.
"If there were a real political crisis, like in Iran or any supply disruption, the oil market turns vulnerable to disruption or fear of disruption," he said. "So it is possible to hit 100 dollars next year."
Oil traders appear to have cast aside concerns that high prices will lead to a global recession, and some analysts say the Organization of the Petroleum Exporting Countries has done little to bring prices down.