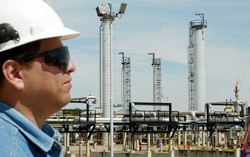 A Bolivia's gas and oil refinery (AFP Photo)
At 11:10 am (0310 GMT), New York's main contract, light sweet crude for June delivery was up 32 cents at 70.51 dollars a barrel from its close of 70.19 dollars in New York on Friday.
Brent North Sea crude for June delivery was at 70.80 dollars, up 70 cents.
Iranian leaders said Sunday that the involvement of the UN Security Council was directing the negotiations on its nuclear program "towards confrontation".
The Islamic republic also threatened to quit the Non-Proliferation Treaty, the cornerstone of the global effort against the spread of nuclear weapons, a move that could escalate the risk premium on Iran, the world's fourth largest crude producer.
"Geo-political risk in Iran is a major driver of the market; it will continue to be major driver this year," said Daruisz Kowalczyk, a senior investment strategist with CFC Seymour in Hong Kong.
US Secretary of State Condoleezza Rice was scheduled to host counterparts from Britain, China, France, Germany and Russia as well as European Union foreign policy chief Javier Solana at a meeting Monday on the Iran issue.
The meeting coincides with continued bargaining in the 15-member UN Security Council on a Franco-British draft resolution that would legally require Iran to freeze all uranium enrichment and reprocessing activities.
Iran adamantly claims that its nuclear enrichment processes are for strictly peaceful purposes.
Russia and China, which have veto powers as permanent members of the Security Council and see Iran as a strategic trading partner, earlier opposed sanctions and the use of force against Tehran.
But analyst Kowalczyk said the meeting could convince China and Russia to back the Franco-British draft resolution, which could call for sanctions against Iran for non-compliance.
"Because of the UN meeting today, there is a risk that Russia and China will fall in behind the US-backed proposal and then prices will go up," Kowalczyk said.
"Currently as long as the meeting is taking place, people are buying just in case as a security measure," Kowalczyk said.
Kowalczyk said that despite the escalating tensions between the West and Iran, he expects the market to decline in the shorter-term.
"There will be a smaller (build-up) in gasoline (stocks) this week (but) the market is not that concerned about it now because of the build-up last week," he said.
US gasoline (petrol) reserves rose 2.1 million barrels to 202.7 million in the week to April 28, according to the United States Department of Energy.
Kowalczyk said US weather could affect sentiment as well in the coming months.
"This hurricane season is forecast to be milder than last year. However, compared historically, it (could still be) very destructive," he said.
Hurricane Katrina devastated oil installations in the Gulf of Mexico last August, sending oil prices to a then record high of 70.85 dollars a barrel.
Source: AFP