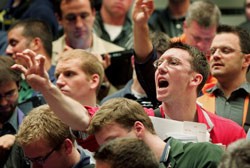 Stock Traders disappoint as stocks downward in New York because of higher oil prices and a drop in consumer confidence recently (AFP Photo)
At 11:00 am (0300 GMT), New York's main contract, light sweet crude for July delivery was down 22 cents at 71.81 dollars from its close of 72.03 dollars in the United States Tuesday.
Brent North Sea crude for July delivery was at 70.94 dollars, down 11 cents.
Expectations that OPEC will stick with the oil cartel's current production quotas also dampened price pressures. The Organization of Petroleum Exporting Countries (OPEC) meets Thursday in Caracas to decide production levels but delegates have indicated the 11-member oil cartel will keep its official production quota intact.
"It looks like (OPEC) are not going to reduce production levels (so) the market has sold off," said Tony Nunan, a Tokyo-based energy risk manager for Mitsubishi Corp.
OPEC has an official production quota of 28 million barrels of day, its highest level in 25 years.
Any cut to that level would likely drive oil prices to new highs well above 70 dollars and would be a risk to the major oil-consuming nations including the United States.
"Any cut in production will send prices up further but consumer countries like the US will complain about it to OPEC so I don't think OPEC will cut production," said Tetsu Emori, a Tokyo-based commodities strategist with Mitsui Bussan Futures.
The US Department of Energy will release its weekly inventory report later Wednesday with the market expecting a build-up in gasoline reserves, Emori said.
Meanwhile the United States has welcomed Iran's intention to restart talks with the European Union over its controversial nuclear program.
Analysts fear that Tehran may cut its crude exports if slapped with UN sanctions.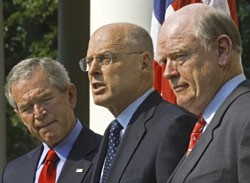 US President George W. Bush (L) listens as Goldman Sachs Chairman and CEO Henry Paulson (C) introduced as his choice as the new US treasury secretary, succeeding John Snow (R) 30 May 2006
Dollar edges higher with focus on new US treasury chief
The dollar was slightly higher in Asian trade Wednesday after a rally on news that a top Wall Street banker has been tapped as the new US treasury secretary ran out of steam, dealers said.
They said the dollar had fallen overnight on concerns that the new top economic official in Washington might favour a weaker dollar but recovered some ground after Goldman Sachs chairman Henry Paulson was nominated.
The dollar was at 112.18 yen, up from 112.14 in late New York trade Tuesday.
The euro eased to 1.2850 dollars after 1.2867 and to 144.11 yen from 144.32.
"The dollar's rebound is largely technical," said Satoshi Okagawa, head of forex trading at Sumitomo Mitsui Banking Corporation.
The dollar was lifted by Paulson's nomination as the currency had earlier fallen on speculation that former commerce secretary Donald Evens, seen as a supporter of a weaker dollar, might take up the post, Okagawa said.
Ashraf Laidi, US-based chief currency analyst at MG Financial Group, said Paulson's nomination "may provide some temporary relief for the sliding dollar."
Dealers said "the Wall Street connection" usually translates into support for a stronger US currency but this alone was unlikely to be enough to prevent the dollar from resuming its downturn.
Source: AFP