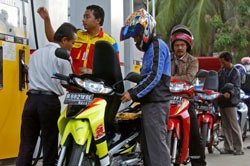 Motorists queue at a gas station in Jakarta, 08 May 2006. OPEC is urging non-OPEC oil producers to help stem the rise in world oil prices (AFP Photo)
World oil prices steadied on Tuesday as traders tracked developments in the international standoff with Iran over its disputed nuclear programme.
In London, Brent North Sea crude for June delivery rose 26 cents to 70.47 dollars per barrel in electronic deals.
New York's main contract, light sweet crude for delivery in June, dipped six cents to 69.71 dollars per barrel in electronic deals before the market's official opening.
Crude futures had dropped heavily Monday on news that firebrand Iranian President Mahmoud Ahmadinejad had reached out to the United States in a bid to ease simmering tensions.
News of a letter from Ahmadinejad to US President George W. Bush came as global powers met in New York in a bid to persuade Iran -- the world's fourth biggest crude producer -- to halt sensitive nuclear fuel work.
Light sweet crude at one point dropped to 68.20 dollars in Monday trade, while Brent hit as low as 69.06 dollars, before both contracts recovered late on.
World oil prices have dived in the past week, with Brent plunging from a historic record just below 75 dollars, also on news of a surprise rise in US gasoline reserves.
In New York on Monday, foreign ministers from world powers held two hours of intensive discussions over Iran, a US spokesman said, but there was no sign whether they made any progress on a unified position.
US Secretary of State Condoleezza Rice hosted talks and a dinner for her counterparts from Russia, China, France, Britain, Germany and the European Union in a bid to find some common ground on their approach to Iran.
The United States has called for UN sanctions to stop Tehran's nuclear energy drive, which it sees as an effort to acquire nuclear weapons -- an accusation denied by Iran.
Oil market watchers fear that any action against Iran would see disruption to the country's crude exports, fuelling soaring energy prices.
Source: AFP