Oil prices rose above $100 a barrel Wednesday in Asia as a report showed U.S. crude and gasoline supplies unexpectedly dropped last week, suggesting demand may be improving.
Benchmark crude for April delivery was up 51 cents at $100.14 a barrel at midday Singapore time in electronic trading on the New York Mercantile Exchange. The contract rose $2.66 to settle at $99.63 on Tuesday.
In London, Brent crude for April delivery was up 23 cents to $115.65 a barrel on the ICE Futures exchange.
The American Petroleum Institute said late Tuesday that crude inventories fell 1.1 million barrels last week while analysts surveyed by Platts, the energy information arm of McGraw-Hill Cos., had forecast an increase of 1.6 million barrels. Inventories of gasoline fell 4.9 million barrels and distillates fell 1.4 million barrels, the API said.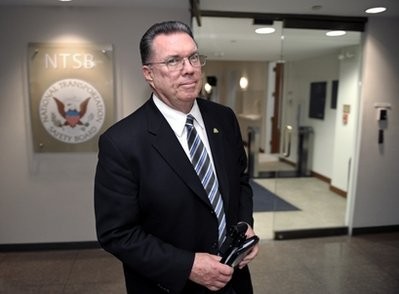 San Bruno, Calif., Mayor Jim Ruane leaves the National Transportation Safety Board after a day hearings in Washington, Tuesday, March 1, 2011, to gather additional factual information for the ongoing investigation into the natural gas pipeline rupture and explosion in September 2010
The Energy Department's Energy Information Administration reports its weekly supply data later Wednesday.
Traders are watching closely Libya, where fighting between supporters and opponents of Moammar Gadhafi has cut oil production in the OPEC nation in half. Investors are also concerned violent protests and political upheaval could break out in the rest of the region since Iran, Iraq, the United Arab Emirates, Kuwait, Bahrain, Qatar, Oman and Saudi Arabia have more than 60 percent of the world's proven oil reserves.
"The underlying fear is still that the current unrest will spread due east into the Arab Middle East and Persia," Cameron Hanover said.
In other Nymex trading in April contracts, heating oil rose 0.7 cents to $3.03 a gallon, and gasoline gained 1.9 cents to $3.00 a gallon. Natural gas futures were down 2.5 cent at $3.85 per 1,000 cubic feet.