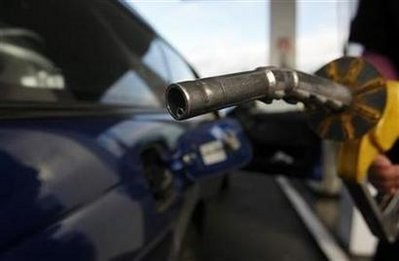 A motorist prepares to put fuel into her car at a petrol station in Melbourne July 3, 2008
Oil slipped below $78 per barrel on Tuesday ahead of data expected to show a rise in U.S. crude oil stocks and before key U.S. economic figures later in the week.
U.S. crude for December fell 43 cents to $77.70 per barrel by 0830 GMT (3:30 a.m. EST), after settling up $1.13 on Monday. London Brent crude eased 30 cents to $76.25 a barrel.
U.S. crude futures rose to their highest level this year at $82 per barrel on October 21, after turning positive on a rolling 12-month basis in the middle of last month for the first time since October 2008, raising the risk of commodity-led inflation.
"Oil has stabilized around the $80 level, with the feeling in the market that when oil hits above $80, the focus shifts toward the high levels of fuel inventories," said Victor Shum, a consultant with Purvin & Gertz in Singapore.
"So in the near term, it is still considered very difficult to push through and sustain above $80."
A Reuters poll of analysts forecast weekly U.S. inventory data for the week to October 30 would show a 1.5 million-barrel build in crude stockpiles, a 500,000-barrel draw in distillates and a 300,000-barrel rise in gasoline inventories.
Industry group American Petroleum Institute will issue its weekly report on U.S. inventories on Tuesday, while the U.S. government Energy Information Administration will issue its data on Wednesday.
Oil got a boost on Monday after U.S. manufacturing activity hit its highest level in 3-1/2 years last month and pending home sales contracts unexpectedly jumped in September, easing fears the budding economic recovery of the world's largest oil consumer would falter.
A separate report from the U.S. Commerce Department showed spending on construction projects rose in September.
Energy traders have closely watched economic data and equities markets this year for signs of a turnaround in the economic crisis that could bolster flagging oil demand.
The U.S. Federal Reserve starts its two-day meeting later on Tuesday and while it is expected to keep rates unchanged, there is speculation that it might drop or alter its pledge to keep rates low for an "extended period."