Israeli Prime Minister Ehud Olmert and Palestinian president Mahmud Abbas were to meet on Monday on the heels of US Secretary of State Condoleezza Rice's latest bid to boost the peace process.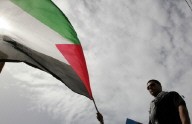 A picture taken on March 28, 2008 shows Israeli Arabs waving Palestinian flags during a demonstration marking Land Day in Jaffa, south of Tel Aviv. (AFP Photo)
A few hours before the talks Olmert held a second meeting in less than 48 hours with Rice, who has urged Israel to take more concrete steps to ease movement and access for Palestinians in the occupied West Bank.
Olmert's spokesman Mark Regev declined to provide any details about the meeting, saying only that "it was a one-on-one meeting that lasted about one hour."
As Rice headed back to the United States, Olmert, whose image has been hurt by fresh allegations of corruption, was due to host Abbas at his official residence in Jerusalem for their third meeting in less than a month.
The two have held similar meetings several times aimed at advancing peace talks which have made little progress since they were restarted amid great fanfare at a US-sponsored conference in Annapolis last November.
The negotiations have stumbled amid violence in Gaza and Israel's continued expansion of settlements in the West Bank, including east Jerusalem, which has prompted renewed US and international calls to freeze all settlement activity.
Rice, who arrived in Israel on Saturday evening, said she remained hopeful the two sides could strike a peace deal by the time US President George W. Bush leaves office in January 2009.
Bush is scheduled to visit Israel next week to mark the 60th anniversary of its creation.
The latest round of diplomacy came as the United Nations warned it would be forced to halt aid distribution in Gaza on Monday for the second time in less than two weeks after running out of fuel because of an Israeli blockade of the impoverished Palestinian territory.
It also coincided with mounting opposition calls for Olmert's resignation. The prime minister has vowed to press ahead with peace talks despite a new corruption probe against him -- the fifth such investigation since he formed his government two years ago, although one case has since been dismissed.