China's close ally North Korea staged an elaborate welcome Monday for the Beijing Olympic torch with tens of thousands of cheering citizens.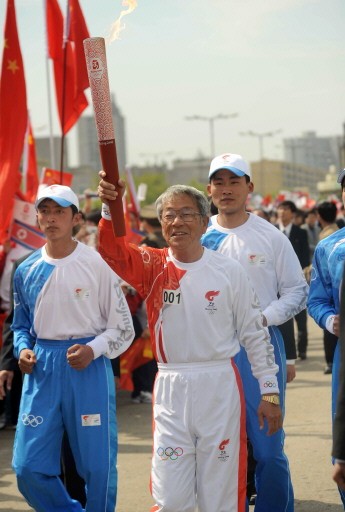 North Korea's first torchbearer Park Du-Ik (C), 71, runs with the Olympic torch past a cheering crowd in Pyongyang on April 28, 2008. Pak scored the only goal in North Korea's famous 1-0 win over Italy which secured their place in the 1966 World Cup quarter-finals.
TV footage showed crowds dressed in their best clothes packing the streets of Pyongyang as the torch began its 20-kilometre (12 mile) relay route. It was the first time the Olympic flame had been carried in North Korea.
"Cheer for Beijing, Cheer for Pyongyang and Cheer for the Olympic Games," read one banner.
The relay finished on time at 0600 GMT when former marathon champion Jong Song-Ok kindled the Olympic cauldron in the Kim Il-Sung Stadium, named after the nation's founding president, China's Xinhua news agency reported.
"Holding the last torch and running to the cauldron reminded me of making a final dash in the marathon," Jong told Xinhua. She won the event at the 1999 World Athletics Championships.
Spectators burst into a storm of applause when the relay ended, Xinhua said, estimating the total number of relay spectators in the hundreds of thousands.
Leader Kim Jong-Il was absent from the launch ceremony at the Tower of the Juche Idea but Kim "is paying great interest in the success of the Olympic torch relay," Pak Hak-Son, chairman of the country's Olympic committee, was quoted by Japan's Kyodo News as saying.
"We express our basic position that while some impure forces have opposed China's hosting of the event and have been disruptive, we believe that consists of a challenge to the Olympic idea," Pak said.
President of the Supreme People's Assembly Kim Yong-Nam handed the torch to the first runner, a hero of one of the nation's greatest sporting triumphs.
"This will be a beautiful memory that will be left with me," Pak Du-Ik, 71, told Kyodo after his 250-meter jog. "I will never forget this."
He scored the only goal in North Korea's famous 1-0 win over Italy which secured their place in the 1966 football World Cup quarter-finals.
Eighty bearers had been scheduled to carry the torch, mostly North Koreans but about a quarter of them Chinese nationals working or studying in the North.
Men in dark suits and women in traditional hanbok gowns waved artificial bunches of kimjongilia, a national flower named after their leader, as the relay got under way at 10:15 am.
Banners reading "Beijing 2008" were hung on both sides of the route.
The flame will be now be taken to Viet Nam and then to Hong Kong and Macau, before starting the final leg of the relay in mainland China.