SEOUL, April 3, 2010 (AFP) - A sailor died and eight were missing Saturday after their fishing boat, which was helping search for missing sailors from a sunken warship, collided with a freighter, maritime police said.
The fishing vessel, with nine crew aboard, sank after sending a distress signal late Friday near South Korea's western sea border with North Korea, after she was apparently hit by a Cambodian-registered ship.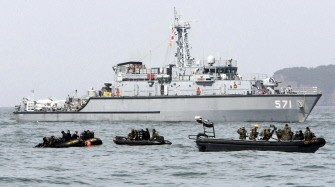 South Korean navy underwater demolition team members on rubber boats search for possible survivors and bodies from the sunken warship on April 2, 2010. AFP photo
The boat was one of 10 trawlers helping with the operation to get to 46 sailors officials say could still be alive in the sunken wreckage of the warship which went down on March 26 following a mystery explosion.
"We've captured the Taiyo 1, a Cambodian-registered 1,472-ton freighter, which was apparently involved in the collision," an Incheon Maritime Police spokesman told AFP.
South Korea's navy, backed by the fishing boats and US military divers, were struggling against high waves and strong currents to explore the hull sections where many of the missing navy sailors could have been trapped.
The area has been crowded with ships and aircraft, which have been combing the area in a search and rescue operation.
But efforts to inspect the sunken wreckage of the warship have been hampered by cold weather and strong currents.
Navy authorities again had to call off a plan to send divers down to the wreckage on Saturday morning because of high waves, a Joint Chiefs of Staff spokesman said.
Fifty-eight crewmen were saved soon after the sinking, but none since. Officials suspect most of the missing are in the rear section of the hull.
The disaster site is close to the disputed border which was the scene of deadly naval clashes between North and South Korea in 1999 and 2002 and of a firefight last November.