A man was shot dead and several were injured at a violent rally in western Kenya on Thursday, officials said, as pre-election mayhem raged ahead of this month's vote.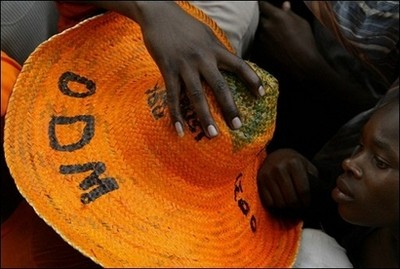 Kenyan supporters of the main opposition coalition, Orange Democratic Movement, (ODM) attend a rally in Nairobi last month (Photo: AFP)
The fatality occurred when rival groups clashed at the campaign meeting in Kakamega district, about 350 kilometers (220 miles) northwest of the capital Nairobi, police said.

The man, a taxi driver, died on arrival at Kakamega district hospital after a bullet penetrated his ribs, Japheth Maloba, a doctor at the facility, told the Standard newspaper.

Police said the man was shot when a politician's bodyguard opened fire to secure his boss.

The latest death brings the death toll to at least 39 in poll-related incidents since July.

More than 14 million Kenyans are registered to vote in December 27 polls to choose a new president, parliament and local councils in the country's fourth multi-party election since pluralism was introduced in 1992.

Opinion polls put opposition candidate Raila Odinga slightly ahead of incumbent President Mwai Kibaki in the presidential race, with former foreign minister Kalonzo Musyoka trailing far behind.

Political observers expect the elections to be the closest ever in the east African nation of some 35 million people.