Sitting comfortably on strong oil prices, OPEC crude producers are set to hold their output steady at their meeting in Angola on Tuesday while eyeing the rising prospects of Iraq, observers say.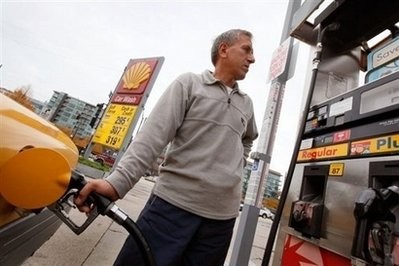 The OPEC oil producers' cartel upgraded slightly Tuesday its forecast for world oil demand growth next year, but said demand in advanced economies would contract again. (AFP Photo)

The meeting of the Organisation of Petroleum Exporting Countries caps a year of recovery for oil prices which have more than doubled since the cartel set strict quota cuts in the depths of the economic crisis 12 months ago.
Since December 2008 when oil had fallen from a peak of more than 147 dollars per barrel to a low around 32 dollars, major economies have emerged from recession and the outlook for world oil demand has strengthened.
With OPEC members enjoying prices between 70 and 80 dollars in recent months, they will now be looking ahead to the impact of Iraq's developing oil industry on the broader market, as well as the longer-term effect of efforts to reduce carbon emissions to protect the world climate.
OPEC's leading ministers have said they are happy with current prices and agreed that quotas should remain at their current level of 24.84 million barrels per day (bpd).
"Inventories are coming down, the price is perfect, and all investors, consumers, producers are all very happy," OPEC's most powerful player, Saudi Oil Minister Ali al-Naimi, said this month when prices were around 76 dollars.
"The market is stable right now, volatility is minimum and everybody is happy with the price."
Oil prices jumped above 74 dollars on Friday, accelerating earlier gains after a report that Iranian forces had taken control of a disputed oil well with Iraq, traders said.
New York's main futures contract, light sweet crude for January, stood at 74.14 dollars. Brent North Sea crude for February delivery traded at 74.50 dollars.
"Compliance (with existing quota cuts) is slipping, most members are happy with current prices -- no need really to do anything" to the production quotas, VTB analyst Andrey Kryuchenkov told AFP ahead of Tuesday's meeting.
"Iraq is going to be their headache in years to come," he added, citing its ambitious aims to boost production after it auctioned off contracts to foreign firms to pump oil from several of its oil fields.
A US embassy official in Baghdad said Iraq would be a "big player" at the Angola meeting where it would seek to increase its quotas. Iraq produces around 2.5 million bpd but wants to ramp this up to 12 million within seven years.
"They're going to be a big player that wants to come back to the table, so they're going to have to negotiate with Saudi Arabia, Iran, Venezuela and the other OPEC members," the US official told reporters, speaking on condition of anonymity.
It is the first meeting hosted by recent newcomer Angola, which joined the 12-member cartel in 2007 -- an emerging oil power which despite being one of Africa's biggest oil producers remains stricken by poverty.
Another key challenge for producers loomed as world leaders met in Copenhagen last week on measures to reduce carbon emissions, which directly threaten the interests of oil producers.
"When you see in the OPEC bulletins the rising concern linked to climate change, you can see that producers are closing ranks," said Francis Perrin of the Oil and Gas Journal, earlier this month.
"In the hardest times in its history, OPEC tends to stick together."