Zimbabwe's opposition claimed victory on Sunday in the country's general elections even before the first results had been announced, saying it would not accept any other outcome.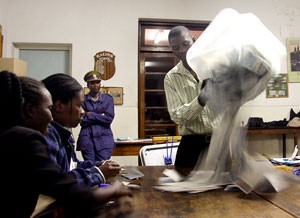 Zimbabwean electoral commission workers conduct the counting of votes at a polling station in Harare on March 30, 2008. (AFP Photo)
Despite warnings from the authorities against any attempt to pre-empt the result, the main opposition Movement for Democratic Change (MDC) said President Robert Mugabe had been roundly beaten and warned it would not accept an alternative verdict from the Zimbabwe Electoral Commission.
Mugabe's camp meanwhile said it would treat any announcement by MDC leader Morgan Tsvangirai that he was now the rightful president as tantamount to a coup which would be dealt with accordingly.
Tsvangirai has always insisted he was the rightful winner of the last presidential election in 2002 while the party also says it was robbed of victory in 2005's parliamentary elections.
Both claims have been vehemently denied by Mugabe who said on Saturday he would not be able to sleep at night if he had cheated.
Mugabe's spokesman George Charamba meanwhile fired a warning to Tsvangirai, who has twice been charged with treason, against an early victory claim.
"How will it play?" Charamba told the state-run Sunday Mail.
"He announces results, declares himself and the MDC winner and then what? Declare himself president of Zimbabwe? It is called a coup d'etat and we all know how coups are handled."
The electoral commission meanwhile said counting could take a while and patience was needed.
"I have not received anything yet. They are still verifying and counter-verifying," commission chairman George Chiweshe told AFP.
With this year's elections involving simultaneous votes for president, parliament and councils, first results were not expected until later in the day and final results may not be known until later in the week.
As well as Tsvangirai, Mugabe is being challenged by former finance minister Simba Makoni whose candidacy highlighted splits in the ruling ZANU-PF party.
The election comes at a time when Zimbabwe is grappling with the impact of the world's highest rate of inflation -- officially put at 100,580.2 percent -- and an unemployment level which has breached the 80 percent mark.
Once seen as the region's breadbasket, the country is now suffering from shortages of even the most basic foodstuffs such as bread.
The president has blamed the country's economic woes on the European Union and the United States, which imposed sanctions on his inner circle after he was accused of rigging his 2002 re-election. He has portrayed the election as a chance to stand up against the West and in particular Britain.
Voting passed off largely without incident, although the security forces have been placed on high alert for fear of a repeat of the bloodshed which followed Kenya's disputed elections in December.