South Korea's three opposition parties agreed to propose the impeachment motion for President Park Geun-hye on Friday, adding the vote will take place on Dec. 9 even if the presidential office announces a plan outlining the chief executive's early resignation, source from the Yonhap.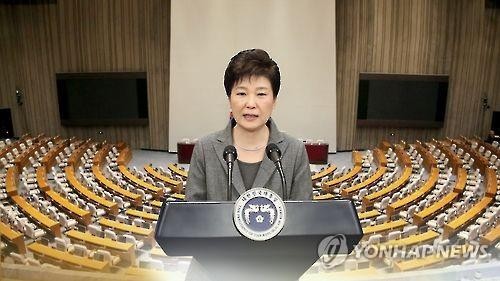 President Park Geun-hye
Park has been facing the biggest crisis of her political career because of the influence-peddling scandal centered on her friend Choi Soon-sil and some of her aides. Choi is suspected of exerting influence on state affairs and having profited from her close relationship with the chief executive.
The three parties plan to hand in the motion, and agreed to persuade members of the ruling Saenuri Party to take part in the vote.
The president asked the National Assembly to decide on her fate in a public speech delivered earlier this week. After the address, Park loyalists have been suggesting to have Park leave office in April and hold the presidential election in June.
The successful passage of an impeachment motion calls for approval from 200 of the 300 lawmakers in the National Assembly. At least 28 Saenuri members must support the motion even if every opposition and independent lawmaker votes for the impeachment.
A group of lawmakers in Saenuri opposing Park said earlier in the day that it will wait for the president to announce her resignation plan by Wednesday, adding it will join the impeachment vote next week if she fails to do so.