TOKYO, Aug 19, 2009 (AFP) - Japan must seek a more independent global role after following the United States for decades and reach out more to its Asian neighbours, top opposition figure Katsuya Okada told AFP in an interview.
Okada, the secretary general of the Democratic Party of Japan, is seen as likely to take a senior cabinet post in the next government if the DPJ wins parliamentary elections on August 30 as opinion polls suggest.
"Japan has tried too hard to adapt its stance to that of the United States, so that Japan lost its sense of recognition" in the world during decades of rule by the Liberal Democratic Party, Okada said.
"It will be the age of Asia, and in that context it is important for Japan to have its own stance, to play its role in the region," he said.
However, he said the party was committed to maintaining the Japan-US alliance and saw a partner in President Barack Obama, who is reportedly planning to visit Tokyo this year, and would seek a dialogue based on trust.
"Since the Obama administration has taken power, I think that there is more common ground between two Democratic parties, and I think that it is a partner we can speak to," added Okada.
The untested DPJ -- a mixed grouping with a broadly centre-left platform -- has been calibrating its foreign policy as it hopes to soon take over power from Prime Minister Taro Aso's conservative LDP.
While in opposition, the DPJ has long voted against military deployments abroad, including non-combat operations in Iraq and a naval refuelling mission near Afghanistan, arguing that Japan should not join "American wars."
It has emphasised Japan's war-renouncing constitution, a principle strongly shared by the Social Democrats, who would join a DPJ-led coalition.
Okada said that, if elected, "we will not automatically extend" the country's naval mission in the Indian Ocean, but he added that the DPJ would review the issue and "clarify our position within the year."
The DPJ has also said it would seek to gradually reduce the 47,000 US forces in Japan, half of whom are based on southern Okinawa island, a major American staging area since World War II.
"Japan has been negotiating (relocating a US base on Okinawa) for 10 years, but nothing has been resolved yet," Okada said. "I think the talks are stuck. We would like to advance our discussion based on a relationship of trust."
Economically, Japan should also increasingly look closer to home and promote the idea of a European Union-style Asian community, Okada suggested.
As the United States struggles with recession and ballooning debt, "dependency on the United States is bound to weaken," Okada said.
"As US consumption will be restrained, Asia will become increasingly important for Japan and there will be more issues to work together on, such as the environment, energy, health," he added.
DPJ leader Yukio Hatoyama, who is seen as the likely next prime minister, said last week that he would seek to boost ties with China, the country expected to soon take Japan's spot as the world's number two economy.
Okada said: "The economic interdependency with Asian countries will deepen, probably less than in the European Union but more than within the NAFTA (North American Free Trade Agreement) region.
"It will take a lot more time to become like the European Union, due to the different political systems in the region, such as those of Japan and China.
"But France and Germany started integration with the European Coal and Steel Community from which the EU emerged... So in that sense, I am quite optimistic about the future."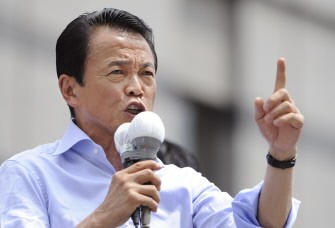 Japanese Prime Minister Taro Aso delivers an election campaign speech in Tokyo on August 18, 2009 (AFP photo)