Singapore – The largest edition of OSEA in the event's 34-year history is geared to welcome professionals from the oil and gas industry, come 30 November – 3 December 2010 at Suntec Singapore.
The sold-out OSEA2010 will feature a record 25,000 square metres of exhibition space, an increase of more than 15 per cent over the in the last edition in 2008.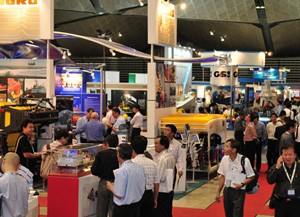 (File photo)
The four-day event is expected to attract over 22,000 business and thought leaders, industry professionals and government officials from 60 countries and regions.
With global energy demand growth projected at 50 – 60 per cent by 2030, major oil companies are investing heavily on harnessing deepwater sources of oil and gas.
According to The World Deepwater Market Report 2010-2014 by Douglas-Westwood, offshore oil will account for 35 per cent of global output by 2020. Deepwater production is expected to grow 99 per cent with $137 billion capital expenditure over the next five years .
The pressing need for industry players to source for more sophisticated technologies and solutions to support the increased deepwater activities has made OSEA2010 the must-attend networking and sourcing platform for global oil and gas community.

The exhibition will feature 1,500 international exhibitors showcasing the latest subsea and surface technologies and solutions. This includes 10 group pavilions from Australia, China, Denmark, Finland, Italy, the Netherlands, Norway, Singapore, the United Kingdom and the United States.
The strong line-up of exhibitors at OSEA2010 demonstrates the prominent position of the show in the industry. The growing event has attracted first time exhibitors like East Asia Power Pte Ltd, ExxonMobil Asia Pacific Pte Ltd, Gates Engineering & Services, Halcyon Offshore Pte Ltd, SapuraCrest Petroleum Berhad and more.
OSEA also sees steadfast support from repeat exhibitors like Bartec Pte Ltd, Gaylin International Pte Ltd, Gazprom, IHC Merwede B.V., Mcdermott Asia Pacific Pte Ltd, Keppel Fels Limited, KS Energy Group, KTL Offshore Pte Ltd, Parker Hannifin Singapore Pte Ltd, Rico (Pte) Ltd, Thermal Limitec, Weidmuller Pte Ltd and more.
The four-day OSEA2010 International Conference and the inaugural Leaders' Summit will feature more than 45 prominent industry experts from the likes of Abu Dhabi Marine Operating Company (ADMA-OPCO), Bahrain Petroleum Company (BAPCO), Ebara, ExxonMobil, GL Global Denton, McDermott, Oil and Natural Gas Corporation Limited (ONGC) and more.
The array of conference tracks will bring interactive dialogue on issues across the oil and gas industry. Delegates will gain expertise and valuable insights on how to better manage various risks and challenges, and harness the potential in offshore exploration and production operations.
The Leaders' Summit is introduced this year to provide a knowledge sharing and networking platform for leading personalities in business, research and government.
The exhibition organizer is Singapore Exhibition Services Pte Ltd.