Australia's ex-prime minister Kevin Rudd has broken his silence for the first time since being ousted by Julia Gillard, throwing his weight behind his successor's faltering election campaign.
Rudd, who was deposed by Gillard in a shock party coup six weeks ago, late Wednesday denied being the source of damaging leaks against his replacement and urged voters to return her ruling party to power in August 21 elections.
In what could prove to be a crucial fillip for Gillard, who is flagging in opinion polls, Rudd pledged to campaign for her centre-left Labor government and called on voters to get over the brutal manner in which the party dumped him.
"What's done can't be undone. And there are bigger things at stake, bigger things than K. Rudd's future, and that's the country's future," he told public broadcaster ABC radio.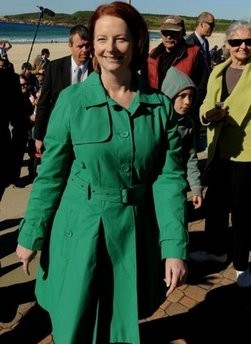 Australia's ex-prime minister Kevin Rudd has broken his silence for the first time since being ousted by Julia Gillard, seen here August 1, 2010,
Dismissing speculation that he remained angry about the way he was unceremoniously discarded by the party after less than one term as prime minister, the former diplomat said he was not bitter.
"Life's just too short to carry around a great bucket-load of anger and resentment and bitterness and hatreds," he said, as polls showed Gillard's popularity sliding amid anger over the way in which Rudd was dispatched.
Rudd, who is recovering at home from gallbladder surgery last week, said he would campaign for Gillard's re-election in a bid to block conservative Liberal Party leader Tony Abbott from seizing power in the looming election.
"I can't just stand idly by at the prospect of Mr Abbott sliding into office by default," he said.
Australian media has been rife with speculation that an angry Rudd was behind a series of destructive high-level leaks that undermined Gillard's campaign and policy positions in the last 10 days, a charge he denied.
"My practice is not to comment on the deliberations and processes of the cabinet," he said. "I have not commented on those deliberations and processes. I will not comment on those deliberations and processes."
Touring Rudd's home state of Queensland, where opinion polls show her losing ground in key marginal seats in an angry voter backlash against the coup, Gillard praised her predecessor's surprise sick-bed intervention.
"Clearly he will be campaigning for the re-election of the government, I welcome that," she said.
Despite ousting him because she felt his administration had "lost its way", Gillard said she and Rudd shared the same values and lauded him as a man of "enormous capability".
She said he had written an "amazing page" in the nation's history by delivering a historic 2007 apology to the Stolen Generation of Aboriginal children taken from their families.
Gillard acknowledged public anger in Queensland about the way Rudd was ousted from power, saying she understood the state's voters "have got a real affection and respect for Kevin."
"I obviously had to make a very, very hard decision... with my Labor colleagues, including Labor colleagues from Queensland," Gillard told commercial radio.