Egypt has ordered Hosni Mubarak and his sons to be questioned over violence against protesters and alleged corruption, as the ousted president defended his reputation after protests calling for him to be put on trial.
Interior Minister Mansur Essawy said "all measures would be taken to ensure the safety of Mubarak and his sons" Alaa and Gamal when they go in for questioning, but warned that they could face arrest if they refuse to show up.
"If the former president and his two sons refuse to appear before the prosecution at the date to be set, the public prosecutor will be notified and legal measures will be taken," Essawy told the official MENA news agency late on Sunday.
The summons came after the broadcast of an audio tape in which the former president defended his reputation, breaking a two-month silence.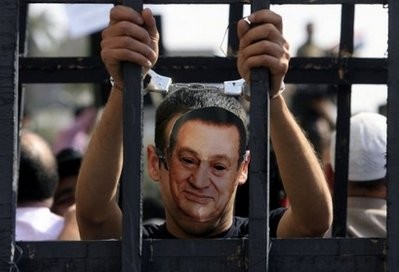 An Egyptian protester wearing the mask of ousted Egyptian president Hosni Mubarak stands with handcuffs inside a makeshift prison cell at Cairo's Tahrir Square
Mubarak and his sons will be questioned about allegations and legal complaints that they were "connected to the crimes of assault against protesters, leading to deaths and injuries," MENA said.
He would also be quizzed on allegations of graft, it added.
An estimated 800 people were killed in clashes with police and the former president's supporters during the protests that erupted on January 25.
In the audio message aired on pan-Arab television network Al-Arabiya, the 82-year-old complained he was the victim of a smear campaign.
He pledged his assistance in a probe of his family's foreign assets, but his defiance in threatening lawsuits against the media angered Egyptians who have been pressing for his trial.
After he resigned, Mubarak and his family moved to a residence in the Red Sea resort of Sharm el-Sheikh, and although he has been slapped with a travel ban, his relative freedom has remained a thorn in the side of the military rulers.
Weekly protests demanding Mubarak's trial have attracted tens of thousands and eventually led to a deadly clash with soldiers trying to clear an overnight demonstration in Cairo's Tahrir Square early on Saturday morning.
Defiant protesters, who accused army commanders of complicity with the former president, remained in the square, although the military had pledged to disperse them, raising fears of further clashes.
By Monday morning, around 200 protesters were in Tahrir, some having spent the night. The square remained closed to traffic, with no security presence around the protesters.
But around the corner, near the Egyptian Museum -- which has reopened to tourists -- armoured personnel carriers and other military vehicles lined the street.
The protesters, who blocked the square with a charred army truck, barbed wire and beams, chanted slogans against military chief Field Marshal Hussein Tantawi, who has been in charge since Mubarak's ouster.
The military acknowledged that one person died on Saturday night from a gunshot wound but denied it used force or live ammunition to disperse the protesters.
Despite its threat to remove the protesters, whom it called outlaws, the military backed down on Sunday morning in a sign that it wished to avoid further confrontations.
Idolised as a saviour at the beginning of the revolt because it refused to crack down on protesters, the army has faced increasing criticism for stalling on reforms, not putting Mubarak in the dock and alleged human rights abuses.
The judiciary has accelerated its probes and remands of former regime officials.
After announcing that Mubarak would be summoned for questioning, news broke that his former prime minister Ahmed Nazif has been detained for 15 days on suspicion of corruption.
Mubarak's son Gamal, once seen as the anointed heir, has already been summoned by a panel for questioning over corruption allegations.
The same justice ministry panel has ordered Mubarak's former chief of staff Zakaria Azmi to be detained for 15 days, also on corruption charges.