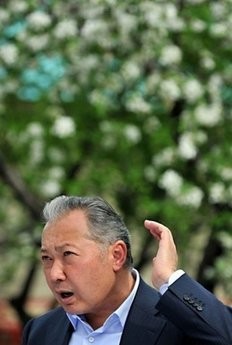 Ousted Kyrgyzstan president Kurmanbek Bakiyev gives a news conference in Teyit. AFP photo
TEYIT, Kyrgyzstan (AFP) – Kyrgyzstan's toppled president Kurmanbek Bakiyev said he was ready to quit if his security is guaranteed, as Russia warned the strategic Central Asian country was close to civil war.
It was the first time since he was ousted in bloody protests last week that Bakiyev has offered to resign.
His declaration followed a warning from the interim authorities that special forces would arrest him if he failed to surrender and carried on holding rallies in his southern stronghold where he fled after the uprising.
But with still no compromise in sight and the interim government seeking to assert its authority in the capital after the protests that left 83 people dead, the nation which hosts a US military base remained dangerously on the edge.
"I believe Kyrgyzstan is on the brink of civil war," Russian President Dmitry Medvedev warned Tuesday in Washington.
Bakiyev made his announcement at a news conference in his home village of Teyit, just outside the southern city of Jalalabad, with 25 armed guards in military fatigues behind him holding Kalashnikovs.
"What is the condition for me resigning? If the security of myself and my family are guaranteed," he said, while insisting he was still the legitimate president.
"And second," Bakiyev added. "Stop people from running around the street with guns."
The interim government's deputy head Azimbek Beknazarov has said that if Bakiyev did not give himself up, the authorities would launch an operation to detain him with the help of the special services.Profile: Kurmanbek Bakiyev
But Bakiyev retorted: "I personally know their capabilities, I know they are not capable of any special operation. I am going to be sleeping soundly tonight."
The interim authorities have already stripped Bakiyev of his immunity from prosecution.
"We can see that the president does not want to step down voluntarily and instead is issuing calls for actions against the people," said Beknazarov.
He accused Bakiyev of surrounding himself with Chechen mercenaries and preparing to resist any attempts to arrest him by force.
But the interim government's chief of staff Edil Baisalov told AFP that its head, ex-foreign minister Roza Otunbayeva, has not signed any document ordering the arrest of Bakiyev.
A court has however issued a warrant for Bakiyev's brother and eldest son, as well as former prime minister Daniyar Usenov over the deaths in last week's protests.
In Washington, the Russian leader called for Kyrgyz officials to avoid further bloodshed.
"The risk of Kyrgyzstan breaking apart -- into the south and the north -- really exists," Medvedev warned after giving a speech at the US think tank, the Brookings Institution.
"Some (Kyrgyz) political leaders will have to make a decision about their fate," he added after Bakiyev's announcement.
The Russian leader rejected assertions however that Moscow had been angered by Bakiyev's decision to allow a US military facility in Kyrgyzstan to remain open. "How can Russia object to decisions of a sovereign state?" he said.
With tensions still running high, UN Secretary General Ban Ki-moon, who visited Kyrgyzstan early this month, urged the rivals to resolve the standoff peacefully.
"In order to avoid a further escalation and destabilization of the situation, the secretary general appeals to all parties concerned to resolve the issue peacefully and on the basis of the constitution," a UN statement said.
The interior ministry confirmed 83 people had died in the protests that led to the ousting of Bakiyev, while 1,600 were wounded.
Bakiyev earlier held a rally in the centre of Jalalabad -- his second in the region since emerging from hiding on Monday -- where 5,000 supporters chanted his name and cheered wildly as the deposed leader took to the stage.
"Take your hands off the legitimate president!" said a banner.
Bakiyev -- who himself came to power in a popular uprising known as the Tulip Revolution in 2005 -- launched his speech with a defiant defence of his record as president.
Robert Blake, US assistant secretary of state for South and Central Asian affairs, is due in Kyrgyzstan on Wednesday for talks with the interim government about security and the holding of elections.
Bakiyev had agreed a new accord with the United States on the Manas airbase in Kyrgyzstan which is vital to US military operations in Afghanistan, an agreement the new authorities have indicated they intend to honour.
The unrest had initially caused the suspension of troop transport flights from the Manas base, but the US embassy has since said full operations have resumed.