Ousted premier Thaksin Shinawatra said Monday he will not return to Thailand to face graft charges but will remain in Britain, blaming political interference in the justice system.
"My wife and I will stay in England where democracy is more important," he said in a hand-written statement released to the media.
"What happened to me and my family and my close relations resulted from efforts to get rid of me from politics."
Thaksin and his wife Pojaman were in Beijing over the weekend for the opening of the Olympics, and rumours have circulated in Thailand that the pair would remain overseas as corruption cases mount against them.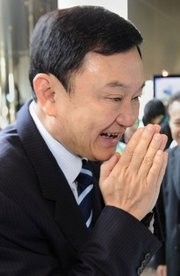 Ousted premier Thaksin Shinawatra
Pojaman was convicted on July 31 of tax evasion and released on bail, and the couple had been ordered to appear before the Supreme Court on Monday to defend themselves in a separate property case.
The pair had to seek special permission from Thai courts to travel overseas since both face a raft of corruption charges that were instigated by the military junta, which overthrew Thaksin in September 2006.
Thaksin travelled to Japan on July 31, and his wife flew to Beijing to join him on Thursday. A former legal advisor close to Thaksin said they had both now flown to Britain.
Thaksin, a billionaire telecoms tycoon turned politician, spent 18 months in self-imposed exile after the coup, spending most of his time in Britain, where he owns a home.