Ousted Honduran President Manuel Zelaya met the U.S. mission led by ambassador Hugo Llorens on Thursday, trying to seek a solution to the political crisis produced by the coup of June 28 in Honduras.
After the meeting which was held in Honduran embassy in Managua, located in Las Colinas district, south of Tegucigalpa, Llorens said it was "a pleasure to see again President Manuel Zelaya, who as you know, is the government that the U.S. recognizes."
Llorens said "the meeting was a chance to discuss the political scene and the way the international community is working to restore the democracy in Honduras."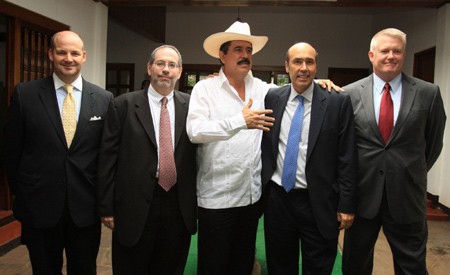 Honduras' ousted President Manuel Zelaya (C) and U.S. ambassador to Honduras Hugo Llorens (2nd R) and other ambassadors pose for a picture at Honduran embassy to Nicaragua in Managua, capital of Nicaragua, July 30, 2009
To the moment Zelaya have not talked about his meeting with the U.S. mission.
While Zelaya and the U.S. mission were meeting, in Honduras the army repressed the protesters demanding the return of power to Zelaya.
On Thursday, Zelaya also announced the creation of a people's army of pacific resistance which will start to be trained and educated to prepare the democracy's return to Honduras