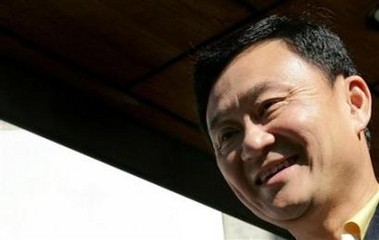 Thailand's deposed premier Thaksin Shinawatra
Thailand's deposed premier Thaksin Shinawatra, who has been living in self-imposed exile abroad since a September coup, is ready to return home to defend himself against any charges, his advisor said Tuesday.
"Under the law, Thaksin must defend himself against any allegations and he is ready to come back because it's difficult to defend while living overseas in exile," Thaksin's legal advisor, Noppadon Patama, told reporters.
Noppadon said Thaksin was living in Beijing but declined to say when he could come back to the kingdom.
But the legal advisor added Thaksin would discuss his possible return with the junta, which came to power following the bloodless putsch in September that ousted him.
Noppadon's comments came hours after the finance minister said the Bank of Thailand would file corruption charges against Thaksin after junta-appointed graft-busters found two fraudulent cases involving the deposed leader.
The junta justified the coup by saying that rampant corruption during Thaksin's five years in office had undermined democracy and is investigating his and his family's business deals for alleged violations of Thai laws.
But junta leader General Sonthi Boonyaratglin late Monday voiced concern over Thaksin's return to Thailand, saying it could trigger street violence.
"I fear that his return could create violence in the streets," Sonthi told reporters.
Thaksin's family sold their 49 percent stake in Shin Corp., a telecom giant he had founded, to Singapore's state-linked investment firm Temasek Holdings for 1.9 billion dollars under a tax-free deal in January.
The tax-free deal triggered months of street protests demanding Thaksin's resignation over alleged abuse of power and corruption, culminating in the September coup.