The outgoing chief of the Constitutional Court insisted Tuesday that the impeachment trial of President Park Geun-hye should end as soon as possible in line with the wishes of the people, source from the Yonhap.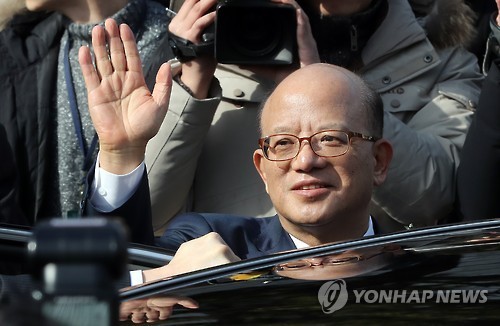 Outgoing Constitutional Court President Park Han-chul waves to staff as he leaves the court in Seoul on Jan. 31, 2017. (Yonhap)
Park Han-chul made the remark during his retirement ceremony, ending a six-year term as a member of the nine-member bench, just days after he first raised the need to deliver a ruling by March 13, the retirement date of fellow Justice Lee Jung-mi. He voiced concern at the time that an additional vacancy on the bench could lead to a "distorted" ruling.
"In light of the gravity of the situation in which the president has been suspended from duties for nearly two months, the entire nation likely is united in the view that a conclusion must come as soon as possible," he said during the ceremony held at the court.
Park was impeached by parliament last month over allegations she let her friend Choi Soon-sil meddle in state affairs and extorted money from conglomerates on Choi's behalf. The president has denied all charges and denied knowledge of her friend's suspected crimes.
The court has until early June to decide whether to uphold or reject the impeachment. If Park is formally removed from office, South Korea will hold a presidential election within 60 days.
Park Han-chul urged fellow justices and the court's staff to fulfill their duty to defend the Constitution by "strictly" reviewing the case.
He also urged the National Assembly to take action to resolve conflicting interests between different economic and social classes, saying a failure to do so will lead to public dissatisfaction and distrust of the political system.
Commenting on the growing political debate over a constitutional revision, he said it should only aim to enhance the dignity and happiness of the people as well as the stability of the nation, not serve a political purpose.
The vacancies left by Park Han-chul and Lee are not expected to be filled soon as a justice can only be appointed by the president following parliamentary confirmation.