An outspoken radio broadcaster in the Philippines was shot dead Monday, police said, becoming the latest journalist to be murdered in one of the world's most dangerous countries for the media.
The victim, Gerardo Ortega, who hosted a daily radio show on the western island of Palawan, was shot in the head while shopping in a clothing store just after finishing his latest broadcast, local police said.
Police quickly caught his attacker but the motive for the killing was not yet known, desk officer Robert Dagala said.
"We still cannot say if (his murder) was related to his work as a radio commentator. The killer has accomplices who are still being hunted," Dagala said.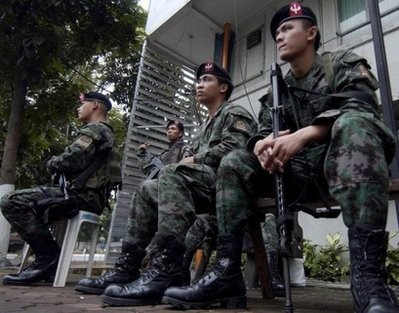 Philippine soldiers are pictured guarding a law enforcement facility
Journalists
are often targeted in the Philippines by powerful people who want to silence them.
The National Union of Journalists of the Philippines said that 142 journalists had been murdered since the fall of dictator Ferdinand Marcos and the restoration of democracy in 1986.
This includes 30 journalists who were among 57 people murdered in the southern Philippines in 2009, allegedly by members of a powerful Muslim clan who wanted to eliminate a rival's political challenge.
Media and rights groups say journalists face this level of danger because of a culture of impunity in which powerful figures believe they are above the law, combined with a high level of gun ownership.
The National Union of Journalists of the Philippines described Ortega as "staunch critic" of a powerful local politician and of mining operations on Palawan.
However, in a statement, it did not say whether it knew of any direct motive for Ortega's murder.
Ortega is the second journalist to be slain since President Benigno Aquino took office last year, the union said. Aquino has said he intends to make the Philippines safer for journalists.