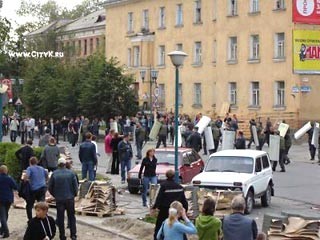 Riot Police arrest young people attacking kiosks where Caucasian immigrants were working in northwestern town of Kondopoga (Photo: cityk.ru)
Over 100 people were arrested over the weekend and a criminal investigation was opened into a series attacks against ethnic Caucasians in northwest Russia after a bar fight left two ethnic Russians dead, local police said Sunday.
Hundreds of local residents took to the streets to protest on Saturday in the northwestern town of Kondopoga near Russia's border with Finland after a bar fight between ethnic Caucasians and ethnic Russians killed two Russians on Tuesday, a police spokesman told AFP.
"Several dozen of them, mostly young people under the age of 25, attacked kiosks where Caucasian immigrants were working. As a result, over 100 people were arrested on Saturday. Twenty of them remain in custody," the spokesman said.
Russian state television on Sunday showed hundreds of Russians, many of them young people with shaven heads, attacking what correspondents said were Caucasian-owned markets with rocks and bottles in Kondopoga on Saturday.
It also showed members of the Moscow-based nationalist Movement Against Illegal Immigration (DPNI), addressing a crowd in the town through a loudspeaker.
Alexander Verkhovsky of the NGO Sova, which studies xenophobic crime, told AFP that DNPI had sent a delegation from Moscow to Kondopoga, and accused them of using the incident to inflame ethnic hatred.
DPNI members clashed with police overnight Friday when they tried to set fire to the Chechen-owned bar where the fight took place, Verkhovsky said.
The killers in the bar fight were suspected to be from the Caucasian republic of Chechnya, Verkhovsky said.
Sergei Katanandov, head of the Karelia region where Kondopoga is located, said in comments broadcast live on local television Sunday that the anger of local residents was justified.
"You know that a bloody fight in Kondopoga on August 30 left several of our fellow countrymen dead, which aroused a fair wave of anger in the town," Katanandov said, news agency Interfax reported.
At the same time, Katanandov said that Saturday's violence was a result of "hooligans" who were "trying to give an ordinary conflict an ethnic character."
"Unfortunately, the killing in Kondopoga raised the issue of ethnic enmity, which hooligans used to provoke unrest and to set shops on fire," he said.
Katanandov appealed to local residents to "remain calm... Don't let yourself by used as blind weapons."
Russian NGOs frequently accuse Russian officials and law enforcement of classifying ethnically-motivated crimes as "hooliganism."
The police spokesman said that the investigation into the attacks and Tuesday's killings were still underway, but that no one had been charged in either crime.