Over 700 people have been killed and eight million affected by heavy flooding across Southeast Asia, the United Nations said Tuesday, adding that it stood ready to provide humanitarian relief.
"The UN is ready to provide aid," said Elisabeth Byrs, spokeswoman for the UN Office for the Coordination of Humanitarian Affairs.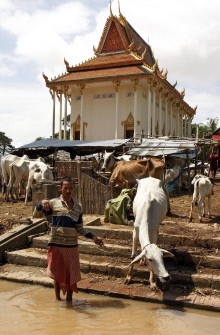 A Cambodian man leads his cow to drink water as floodwaters surround a pagoda in the Lvea Aem district of Kandal province, 60 kilometers east of Phnom Penh on October 18, 2011.
Torrential rains have pelted Thailand, Cambodia, Laos and Vietnam, cutting off roads and destroying homes and crops.
Byrs warned that sea surges were expected in Thailand on Wednesday, as well as from October 28 through 30, which could threaten to break through flood barriers.
A landslide alert has also been issued for four provinces in the south of Thailand.
In Laos, 892 homes have been washed away and 2,500 livestock perished, and in Cambodia and Vietnam access is difficult to affected zones, Byrs said.