Pakistani security forces said they were closing in on Taliban bastions in the northwest as a rights group warned of a humanitarian catastrophe for those trapped in the war zone.
As a punishing offensive against the Islamist insurgents entered a fifth week, security officials said troops had secured 70 percent of Mingora, the capital of the scenic Swat valley and a crucial tactical battleground.
"Some 70 percent of the area in Mingora is under control of the army," said a senior military official, who asked not to be named as he was not authorised to speak to the media.
"Security forces have strengthened their positions in Mingora and search operations are being carried out in the areas which are under our control."
Taliban extremists bent on imposing a harsh brand of Islamic law had for the past weeks patrolled the streets armed with guns and rocket launchers, but a Mingora resident said now their bodies littered the roadside.
"Taliban were seen patrolling in my area until four days ago but now army troops are moving here in a big number," said Ahmadullah, who gave one name only and owns a pharmacy in Mingora's Malukabad neighbourhood.
"There has been intense firing in Mingora during the last few days. We still hear firing but it is not as frequent and intense," he told AFP by telephone.
"Bodies of Taliban are lying everywhere in my area as well as in nearby localities. There are at least three bodies of Taliban lying in my locality. I identified them because near them lie their dusty turbans and weapons."
A spokesman for the Pakistani Taliban had on Monday told AFP that firebrand commander Maulana Fazlullah asked insurgents to stop fighting and leave Mingora to avoid civilian casualties.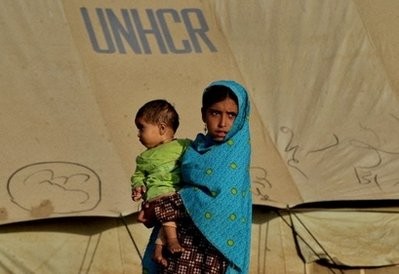 A Pakistani internally displaced girl carries a child at a makeshift tent camp in Swabi.
But Muslim Khan added that: "We will fight for the enforcement of sharia law till the last drop of our blood."
The security official said troops had also established bunkers on mountains around Saidu Sharif -- Swat's old capital next door to Mingora -- while fighting continued in two villages within 25 kilometres (15 miles) of the town.
"Helicopter gunships shelled militant hideouts in Kanju and Kabal areas on Tuesday morning," the official said.
Security forces launched their onslaught against Taliban fighters in the districts of Lower Dir on April 26, Buner on April 28 and Swat on May 8, after Taliban fighters advanced to within 100 kilometres (60 miles) of Islamabad.
The United Nations refugee agency says that 2.38 million people have fled their homes and been registered as displaced since May 2, although it cautioned that the figures may change as cross-checks were ongoing.
Fears are also growing for thousands of civilians who remained trapped in the war zone, under siege with scant food, water and medical supplies.
"People trapped in the Swat conflict zone face a humanitarian catastrophe unless the Pakistani military immediately lifts a curfew that has been in place continuously for the last week," said Brad Adams, director of New York-based watchdog Human Rights Watch.
"The government cannot allow the local population to remain trapped without food, clean water and medicine as a tactic to defeat the Taliban."
The military has said that about 20,000 of Mingora's population of 300,000 remain in the city, hunkered down behind closed doors.
Reports of civilians killed in the crossfire continued to flood in, HRW said. Pakistan's military has said it is taking all possible measures to avoid civilian casualties. It has not released any figures for such deaths.
The military says nearly 1,160 militants and 69 soldiers have died in the current offensive, but those tolls cannot be confirmed independently.
The Taliban advance last month came despite a February deal with a pro-Taliban cleric which put three million people in the northwest under sharia law in a bid to end the two-year Taliban insurgency.