ISLAMABAD, Aug 7, 2009 (AFP) - Pakistan said Friday it believed that the nation's Taliban chief Baitullah Mehsud was killed in a US drone attack, which if confirmed would score a coup in the US-led fight against Islamist militants.
The death of the notorious commander could deal a heavy blow to the sizeable Taliban movement commanded by Mehsud, who has a five-million-dollar US bounty on his head after Washington branded him "a key Al-Qaeda facilitator".
US and Pakistani officials accused Mehsud of masterminding the 2007 assassination of ex-Pakistani prime minister Benazir Bhutto, and he has been blamed for the deaths of hundreds of people in bomb attacks over two years.
Senior officials in Pakistan's powerful security establishment who supervise operations in Mehsud's Waziristan stronghold said the warlord was dead, but the civilian government said it was still confirming whether this was correct.
"Information is coming from that area that he is dead," Interior Minister Rehman Malik told reporters in comments broadcast by private TV channel Geo. "I am unable to confirm unless I have solid evidence," he added.
Tribesmen said on condition of anonymity that Mehsud was killed with his wife when a US drone fired two missiles into a family home in the Laddah area of South Waziristan on Wednesday. A kinsman had initially said he was "safe".
The US Central Intelligence Agency, with the tacit cooperation of Islamabad, has carried out dozens of attacks in Pakistan using unmanned Predator and Reaper drones over the past year, but declines to discuss the strikes publicly.
Islamabad and Washington have called liquidating Mehsud a strategic aim in the fight against Taliban and Al-Qaeda-linked extremists whom the United States has accused of posing an existential threat to nuclear-armed Pakistan.
"Baitullah Mehsud is one of the most dangerous and odious people in the entire region," US regional envoy Richard Holbrooke told reporters in Islamabad late last month.
In Washington, a US official said Thursday there was "some reason to believe Mehsud may be dead but it cannot be confirmed at this time for certain".
Islamabad publicly opposes suspected US strikes, saying they violate its territorial sovereignty and deepen resentment among the populace. But it has also posted a bounty of 615,000 dollars for Mehsud -- dead or alive.
Mehsud has reportedly narrowly escaped previous attacks.
"So far there is no report which confirms that the dead include Baitullah Mehsud. We have sent teams to investigate," Jamal Azmat Khattak, the assistant political agent in Laddah, told AFP.
Taliban commanders have neither confirmed nor denied Mehsud's demise. But top militants in his umbrella group Tehreek-e-Taliban (TTP) were gathering in his South Waziristan stronghold on Friday ahead of an expected announcement.
"An important announcement is expected at the end of the meeting," said one Taliban commander.
Analysts said that Mehsud's death, if confirmed, would deal a heavy blow to the organisation increasingly seen as the bloodiest orchestrator of extremist bombings that have killed about 2,000 people in Pakistan over two years.
"It will trigger a leadership crisis, they will find it very difficult to fill the vacuum. There can not be a bigger loss for TTP than losing Mehsud," a Pakistani expert on tribal affairs, Rahimullah Yusufzai, told AFP.
Several names are touted as his possible successor, including Waliur Rehman, Azmatullah and Hakimullah Mehsud but none match the stature of Baitullah.
The US government alleges Islamist fighters hide out in the Pakistan mountains near the Afghan border, plotting attacks on Western targets and crossing the porous frontier to attack foreign troops based in Afghanistan.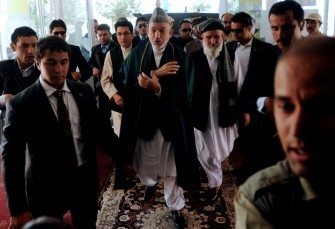 Incumbent Afghan President Hamid Karzai (C) one of 41 registered presidential election candidates, walks with officials as he arrives to address an election campaign event in Kabul on August 7, 2009. Although the leading contender, Karzai's critics say he is unable to defend his nearly eight years in power, during which an insurgency by the Taliban has mushroomed and most Afghans remain in dire poverty. (AFP photo)
Washington has put Pakistan at the heart of the fight against Al-Qaeda, and has ordered an extra 21,000 troops to Afghanistan in a bid to stabilise the neighbouring country for elections this month.