Pakistani fighter jets on Tuesday pounded Taliban sanctuaries, as the militant group claimed responsibility for the latest in a wave of attacks that have killed 125 people in a week.
Fighter jets launched another round of bombing raids killing six suspected insurgents in South Waziristan, the semi-autonomous region near Afghanistan and a known stronghold of Taliban and Al-Qaeda-linked rebels, officials said.
Interior Minister Rehman Malik, meanwhile, vowed to wipe out the Islamist extremist threat in Pakistan, with a fierce military operation into the Taliban's mountain sanctuaries believed to be imminent.
The army claims to have already quashed militants in the one-time tourist paradise of Swat valley, but on Monday a teenage suicide bomber struck in the neighbouring northwest district of Shangla, killing 45 people.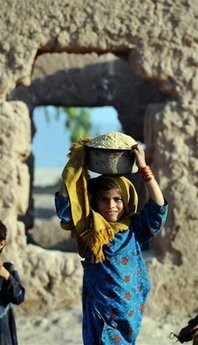 File photo of an internally displaced Pakistani girl carrying food on her head at a makeshift camp in Jalozai
The Taliban claimed responsibility for that attack, with spokesman Azam Tariq telling AFP: "This is revenge for our martyrs... This is part of the series of attacks that we are carrying out. Wait and see more."
The group have also claimed responsibility for a weekend hostage drama at Pakistan's army headquarters which hit at the heart of one of the most powerful institutions in the nuclear-armed nation.
Local media have reported that the threat to army headquarters in the garrison city of Rawalpindi was known in advance by police, and have questioned why the siege which left 23 people dead was not thwarted.
On October 5, The News published extracts of a correspondence between the interior ministry and Punjab authorities, warning that militants in army uniforms were planning to target the HQ -- exactly what happened days later.
"Don't blame intelligence agencies, they have foiled several planned attacks, we foiled at least a hundred attacks before they were carried out," Malik told reporters.
A spokesperson for Punjab Senator Pervaiz Rashid confirmed to AFP that the provincial home department had dispatched a confidential letter to the army and other departments in July highlighting possible targets.
"It was mentioned categorically in the letter that terrorists have been planning to get into GHQ (General Headquarters) clad in military uniform and using a military vehicle," the official said.
Military spokesman Major General Athar Abbas has said the army HQ attack was planned in the Taliban stronghold of South Waziristan on the Afghan border.
War planes Tuesday targeted the region's Makeen, Ladha and Nawazkot towns, which had already been pummeled from the air on Sunday.
"At least six Taliban including a local commander were killed in the air attack," said a security official in South Waziristan who asked not to be named. Intelligence officials gave the same toll.
The strikes occurred in areas under Taliban control, and the death tolls are impossible to verify independently.
The Tehreek-e-Taliban Pakistan (TTP) movement has threatened more attacks, vowing vengeance for the death of its leader Baitullah Mehsud in a US drone missile strike in South Waziristan in August.
There was a brief lull in violence as the Taliban leadership regrouped, but the comeback has been fierce.
Last Monday, a suicide bomber walked into the lobby of the Islamabad offices of the UN's World Food Programme, killing five people, while a massive suicide car bomb Friday killed 52 people in northwest Peshawar city.
The latest attack hit Alpuri town in Shangla on Monday, with 39 civilians and six soldiers killed when a boy aged about 13 or 14 flung himself at a military convoy passing through a crowded market.
Thousands of civilians have fled South Waziristan fearing an imminent offensive, while Pakistani fighter jets have been carrying out air raids in the region and blocking key roads in an attempt to choke off the rebels.
Pakistan Foreign Minister Shah Mehmood Qureshi flew to Washington on Tuesday to air concerns about a 7.5 billion-dollar aid package that has raised hackles among the nation's military, officials said.
US Senator John Kerry on Tuesday strongly denied that the package would impinge on Pakistan's sovereignty at a joint news conference with Qureshi.
Kerry, a close ally of President Barack Obama, will embark on a tour of Pakistan and Afghanistan on Wednesday, said Tomeika Bowden, a spokeswoman for the Senate Foreign Relations Committee which Kerry chairs.
He is expected to consult Pakistanis about the aid package.