Pakistan's Supreme Court ruled Friday that President Pervez Musharraf can stand for re-election this weekend, but ordered that the result cannot be announced until it resolves legal challenges.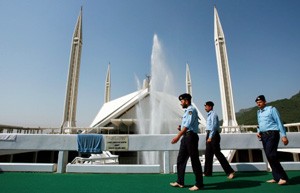 Pakistani policemen patrol at the Faisal Mosque in Islamabad, Oct. 05, 2007.
The decision effectively leaves a sword hanging over Musharraf's head while the court decides whether it will validate the result of Saturday's election, which he is widely expected to win.
It came a day after Musharraf had cleared a key hurdle by striking a deal with former premier Benazir Bhutto that would pave the way for a power-sharing arrangement aimed at ending Pakistan's chronic political instability.
Musharraf, a key US ally in the "war on terror," seized power in a coup in 1999 and is controversially standing for re-election while still holding down his position as army chief.
Opponents challenged the validity of the election, but the Supreme Court's ruling clears the way for the vote, carried out by an electoral college of the national and federal parliaments, to go ahead.
"The bench has unanimously resolved and directed that the election process should proceed as per the schedule announced by the chief election commissioner," chief judge Javed Iqbal said.
But it said final notification of the winner could not be issued until the court had decided on the appeals by Musharraf's rivals against the vote, "for which the process is to begin from October 17," he added.
The court was ruling on challenges filed by the vice-chairman of Bhutto's party, Makhdoom Amin Fahim, and by retired judge Wajihuddin Ahmad, who refused to swear allegiance after Musharraf's 1999 power-grab.