Pakistani authorities on Saturday slapped a curfew on parts of South Waziristan -- the Taliban tribal stronghold where troops are preparing to launch an offensive, officials said.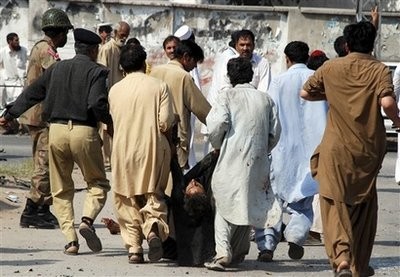 People carry a person injured by a suicide attack in Peshawar, Pakistan on Friday, Oct. 16, 2009.
The indefinite curfew was imposed from 7:00 am in the district of Wana, the main town in the vast and lawless region, as well as in Shakai and Tiarza, military and local officials told AFP on condition of anonymity.
Local residents said announcements were made over public address systems and from mosques. Witnesses said it was the first time authorities had imposed a curfew in Wana, leaving residents confused.
People were still in bazaars and markets of Wana two hours after the curfew formally began. Mobile telephone networks were later jammed, residents said.
Pakistan vowed late Friday to root out militants, branding Islamist extremists a threat to national sovereignty after more than 160 people died in a wave of attacks targeting security installations and civilians this month.
South Waziristan is part of Pakistan's tribal belt, which lies outside direct government control, where Taliban and Al-Qaeda militants fled after the 2001 US-led invasion of neighbouring Afghanistan.