Twin bomb blasts which tore through a busy market in Pakistan's second city of Lahore, have claimed the lives of 49 people and wounded 150 more as the toll climbed amid a struggle to quell a worsening Taliban insurgency.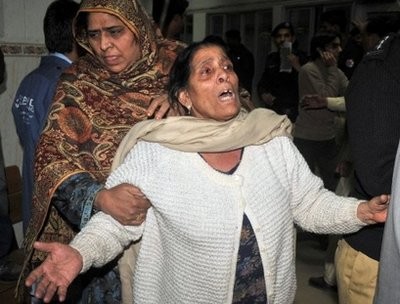 A Pakistani women cries after one of her relatives was injured in a bomb attack in the city of Lahore on December 7. (AFP Photo)
The market bombings followed a deadly suicide attack which killed ten people outside a court in the northwestern provincial capital of Peshawar, a city which has borne the brunt of Taliban attacks avenging a major offensive against the hardline militants.
Attacks blamed on Islamist fighters have surged this year as Pakistani troops battle the Taliban in the rugged tribal regions near the Afghan border, under fierce US pressure to do more to destroy extremist strongholds.
The popular Moon Market in the centre of the eastern city of Lahore was transformed into a scene of flames and rubble as night fell, when two bombs exploded 30 seconds apart outside a police station and a bank, officials said.
"There were two blasts, at least 36 people were killed," doctor Rizwan Naseer, the head of Lahore's rescue service, told reporters. He put the number of wounded at 95.
Lahore police chief Muhammad Pervez Rathore put the death toll slightly lower, while bodies were still being pulled from the rubble.
"Twenty-seven people are confirmed dead but the death toll may rise. A total of 137 people were injured," he said. "The blasts knocked out the electricity. Fire engulfed the whole of the market.
"We fear there are still dead bodies inside."
Lahore is a cultural hub of nearly eight million people, and is increasingly in the Taliban's cross-hairs with five previous militant strikes this year killing more than 70 people.
In Peshawar, a suicide bomber in a rickshaw approached a district courthouse and blew himself up, killing 10 people.
"He got down and tried to enter the building but could not do so because of our security arrangements," said Bashir Bilor, a senior provincial minister.
The bomber detonated about six kilogrammes (13 pounds) of explosives, killing 10 people including a policeman and wounding 44 others, said Zafar Iqbal, a senior doctor at Peshawar's main Lady Reading hospital.
Local television showed images of blackened sandals lying in pools of water on a charred road as smoke and flames filled the streets.
"I was sitting outside the court when I heard a deafening blast," lawyer Rashid Hussain told AFP.
"I rushed to the spot and saw dead and injured laying on the ground. It was really horrible, there were body parts and the injured were crying for help."
Prime Minister Yousuf Raza Gilani condemned both bombings, deploring "the loss of innocent lives", a statement said.
There was no immediate claim of responsibility, but a fierce Islamist insurgency has killed more than 2,600 people in attacks mostly blamed on the Taliban in the last two-and-a-half years.
October and early November saw a fierce surge in attacks, including a huge suicide car bombing on October 28 in a Peshawar market that killed 125 people in the worst attack in Pakistan in two years.
There had been a lull in recent weeks but on Friday four suicide bombers stormed a mosque in Islamabad's twin city Rawalpindi, killing 36 people in an onslaught of gunfire, grenades and explosions.
Pakistan's military is engaged in offensives against Islamist fighters across much of the northwest including the tribal areas bordering Afghanistan, a region branded by Washington as the most dangerous place on earth.
The tribal belt has been plagued by instability for years, exacerbated in 2001 when a US-led invasion ousted the Taliban regime from Afghanistan, sending hundreds of Taliban and Al-Qaeda-linked militants into the lawless region.
Officials said Pakistani troops killed 10 suspected insurgents in operations in northwest Swat valley and the tribal district of Bajaur on Monday.
Washington and London are pressuring Pakistan to do more to capture Al-Qaeda leader Osama bin Laden and prevent militants crossing the border and targeting foreign troops stationed in Afghanistan.