Pakistani President Pervez Musharraf's government said Thursday it was optimistic about a breakthrough in talks with Benazir Bhutto despite her threat to deal his re-election bid a "severe blow".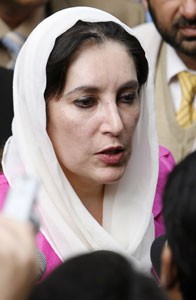 Former Prime Minister of Pakistan, Benazir Bhutto, arrives for a meeting in West London, 03 October 2007.
Musharraf, a key US ally who seized power in the nuclear-armed nation in 1999, is expected to win Saturday's presidential vote although he still faces Supreme Court legal challenges against its legitimacy.
Former prime minister Bhutto's opposition Pakistan People's Party was meeting in London on Thursday to mull mass resignations by MPs, in a bid to rob the vote by federal and provincial lawmakers of any semblance of credibility.
Bhutto said that talks with military ruler Musharraf on a power-sharing deal had "totally stalled" and denied reports that the government would give her an amnesty on the corruption charges that drove her into self-imposed exile.
But officials in Islamabad said it was likely Musharraf would on Thursday issue a decree granting her immunity from the allegations -- one of her key demands for a pact ahead of her planned return to Pakistan on October 18.
"The next few hours are crucial but we are guardedly optimistic about a breakthrough with Benazir Bhutto. She is showing that she is a very clever politician," Deputy Information Minister Tariq Azeem told AFP.
Azeem added that a presidential decree, or ordinance, giving her indemnity on the graft cases could be issued later in the day.
"Today the ordinance may come," he said.
The outcome will depend on last-minute talks in Islamabad and London aimed at convincing President Pervez Musharraf's political allies to grant her an amnesty and also to woo the increasingly vocal Bhutto.
The general has been in talks with Bhutto for a US-backed deal that would bring two western-friendly leaders together in a country wracked by violence linked to Osama bin Laden's Al-Qaeda network.