Pakistani Prime Minister Yusuf Raza Gilani plans to meet opposition leaders on Monday in a bid to head off a possible vote of no confidence after a key partner quit the governing coalition.
Gilani's government lost its parliamentary majority on Sunday after the Muttahida Qaumi Movement (MQM) announced it would go into opposition because of what it said government fuel price policies that are "unbearable" for Pakistanis.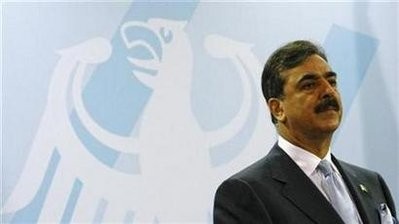 Pakistan Prime Minister Yusuf Raza Gilani addresses a news conference at the chancellery in Berlin, December 1, 2009
The MQM pullout plunged the South Asian country, vital for U.S. efforts to pacify Afghanistan, into a deep political crisis.
It also adds to uncertainty over the government's struggle to meet economic policy demands placed on it by the International Monetary Fund in return for an $11 billion loan.
The Karachi Stock Exchange's benchmark 100-share index was down 1.72 percent, or 206.56 points, at 11815.90, on turnover of 43.44 million shares by 11:09 a.m. (0609 GMT).
The MQM's withdrawal means that if opposition parties close ranks, they would be able to force a no-confidence vote on Gilani in parliament.
If the crisis deepens, an early election may be called.
Gilani is scheduled to meet the president of the biggest opposition party in the National Assembly, the Pakistan Muslim League (PML-N) on Monday.
"The Prime Minister will discuss the political situation with Shahbaz Sharif and ways and means to resolve this crisis," an official in Gilani's office told Reuters.
He is also due to meet Chaudhry Shujaat, leader of another major opposition party, the PML-Q. "He indicated he would seek our support,,"" said a party official.
The MQM pullout came after Jamiat-e-Ulema-e-Islam (JUI), a pro-Taliban religious party, quit the coalition last month after Gilani sacked one of its ministers.
While analyst doubt that Gilani would see out his term, which ends in 2013, the chances of the opposition forming a new ruling alliance are slim. The PML-N, headed by popular politician Nawaz Sharif, does not enjoy close ties with other opposition parties.
The political paralysis will make it even harder for leaders to tackle a wide array of problems frustrating millions of Pakistanis -- from corruption, to poverty to suicide bombings carried out by Taliban militants.
Foreign direct investment fell by 21.5 percent in the first five months of 2010 to $573.3 million because of factors such as militant violence.
The stock market closed up 28 percent in 2010, partly due to foreign buying.