Pakistani forces pounded Taliban positions with heavy artillery on Sunday, pressing a major operation in South Waziristan for a second day and reportedly killing up to 20 militants.
The rugged district is part of a tribal belt on the Afghan border that US officials call the most dangerous place in the world, home to thousands of Taliban and Al-Qaeda-linked fighters branded a major threat to the West.
Troops trained heavy artillery on Taliban bases overnight after advancing on three fronts, pressing an offensive planned for months that poses the biggest challenge to date in Pakistan's war against Islamist militants.
Between 17 and 20 militants have been killed so far in the operation, security officials said. But the information was impossible to check with all access to the region cut off and the military not giving its own figures.
Pakistan vowed to root out militants after a spike in a two-year Taliban and Al-Qaeda-linked campaign of attacks that has made the country a frontline in the US-led war on terror. Related article: Attacks since Oct 5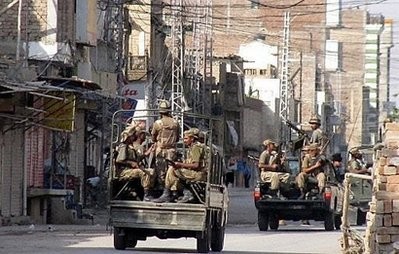 Pakistan soldiers patrol a street during a curfew in Bannu, a town on the edge of Pakistan's lawless tribal belt Waziristan.
Around 90,000 civilians have fled South Waziristan, normally home to 600,000 people, since August and officials said the number could more than double.
"We estimate that around 100,000 more people can be displaced, say a total of around 150,000 to 200,000 people can be displaced," Colonel Waseem Shahid, from an army support group, told AFP.
There were heavy clashes in mountainous forest at Sharwangi and near Spinkai Raghzai, which the army said it captured after nightfall.
Troops established a checkpoint en route to Kotkai, the home town of Pakistani Taliban chief Hakimullah Mehsud.
Five soldiers were killed after thousands of troops thrust north towards Makeen, east towards Kotkai and Spinkai Raghzai, and west towards Kunigaram, Saam and Baddar, security officials said.
Pakistan has mounted numerous offensives against militants in its northwest since 2002, meeting with limited success and costing the lives of 2,000 troops. Related article: Army faces black hole
"The operation will continue until the objectives are achieved. The army has blocked all entry and exit points of Waziristan," army spokesman Major General Athar Abbas was quoted as saying by television channels.
Commanders have outlined an offensive lasting six to eight weeks, with the goal of finishing before the onset of harsh winter snows.
There are an estimated 10,000 to 12,000 fighters from the Tehreek-e-Taliban (TTP) movement in South Waziristan and up to 25,000 across Pakistan's semi-autonomous tribal belt, which has a history of fierce independence.
Pakistan's military has said Central Asian militants, mainly Uzbeks, as well as Arabs, north Africans and even some Europeans are also in the area.
US officials say Al-Qaeda fled into the tribal areas after US-led operations toppled the Taliban in Afghanistan in 2001 and is now using the area as a base for plotting attacks on the West and the region. Related article: Main militant groups
The offensive by Pakistani troops was accompanied by an indefinite curfew slapped on parts of South Waziristan, officials said.
"In the given circumstances, the national consensus is reaffirmed to establish and maintain the writ of the state to weed out these elements," the prime minister's office announced hours before the offensive began.
The frequency of attacks since October 5, including a siege at the army headquarters near Islamabad, has underscored the weakness of security forces who experts say lack needed hardware and counter-insurgency expertise.
One US official said the United States was "doing everything in our power" to help Pakistan improve its counter-insurgency capabilities with military assistance to the nuclear-armed Muslim country "on a war-plan footing".
Hundreds of night-vision goggles, radios and thousands of protective vests were provided in July alone, with overall military assistance amounting to 6.85 billion dollars since 2001, the embassy official said.