ISLAMABAD (AFP) – Pakistan has barred the defence minister from travelling abroad as the fallout Friday from a court ruling reviving graft cases against a raft of top politicians threatened the government's stability.
The country's top anti-corruption body has called for travel bans on more than 250 people since the Supreme Court Wednesday annulled a decree protecting politicians including President Asif Ali Zardari from old graft charges.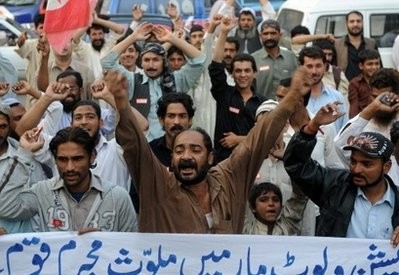 Pakistan political ctivists celebrate the Supreme Court's decision on the National Reconciliation Ordinance in Karachi on December 17. (AFP photo)
The court ruling has rattled the US-backed government, with the opposition demanding the swift resignation of Zardari and implicated ministers.
Defence Minister Ahmed Mukhtar told local television late Thursday he had been due to go on an official visit to China but that his name had been put on an "exit control list" restricting travel.
Mukhtar told private Geo television station he had been due to spend three days in China to discuss the delivery of a frigate, but when his staff reached the airport they were told the delegation would have to go without him.
"I was informed that my name is on the exit list... federal investigation authorities officials have said that I cannot leave the country," he said.
"It was in connection with a corruption case. But there is no corruption case against me -- it is only an enquiry which is pending against me for the past 12 years. I will strongly defend myself in the court."
The National Accountability Bureau said it had instructed the interior ministry to put the names of 253 people on the exit control list.
"They include politicians, bureaucrats, ex-military officers and some diplomats... Arrest warrants issued against some are also revived and properties of accused frozen again," said NAB's media officer Naveed Sattar.
Zaradri's name was removed because of his presidential immunity, but a senior government official told AFP on condition of anonymity that Interior Minister Rehman Malik's name was also on the list.
Pakistan's ambassador to the United States, Husain Haqqani, voiced hope the amnesty ruling would not destabilise the country, which is under US pressure to do more to fight Islamist militants on the border with Afghanistan.
"Everybody in Pakistan, including our top military leadership, has made it clear that the military should focus on defending the country's frontiers and elected government should run the government in accordance with the constitution and courts should adjudicate criminal matters in accordance with the law," he told CNN.
"I hope everybody will play their constitutional role and (the) country will not go down the road of coups that has been disastrous for our country in the past," said Haqqani, who is himself implicated by Wednesday's ruling.
Pakistan is ranked the 40th most corrupt country out of 180 monitored by global watchdog Transparency International, and many governments have fallen or been ousted by the military over accusations of graft.
The amnesty -- called the National Reconciliation Ordinance (NRO) -- was passed in October 2007 by then-president Pervez Musharraf, who was under pressure to hold elections and end about eight years of military rule.
It quashed charges against a number of politicians including Zardari and his wife and ex-prime minister Benazir Bhutto -- who was assassinated two months later -- to allow them to stand for office.
Zardari's Pakistan People's Party (PPP) went on to win elections in 2008, restoring civilian rule, but his relations with the powerful military are strained and his public approval rating at rock-bottom.
Zardari is immune from prosecution while in office, but his eligibility for the presidency could be challenged as graft cases were pending against him when the NRO was adopted, raising questions about his suitability for the post.
Political analyst Talat Masood said the government must act swiftly to restore confidence by forcing out implicated ministers.
"If it is prolonged it's likely to affect governance, it is likely to affect the overall security situation, but if the transition is quick, these ill-effects could be reduced," he told AFP.