Pakistan on Tuesday said it had successfully test-fired a nuclear-capable cruise missile amid global concerns about the emergency-ruled nation's atomic arsenal.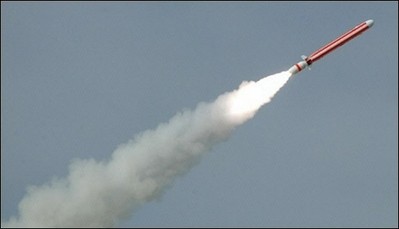 A Inter Services Public Relations photo shows a Pakistani nuclear-capable radar-dodging cruise missile Babur (Hatf-7) being fired in Pakistan (Photo: AFP)
The locally developed Babur (Hatf 7) missile has a range of 700 kilometers (440 miles) and uses stealth technology, a defense ministry spokesman told AFP.

"The test will consolidate Pakistan's strategic capability and strengthen national security," the army said in a statement.

"The Babur, which has near stealth capabilities, is a low-flying, terrain-hugging missile with high manoeuvre ability, pinpoint accuracy and radar-avoidance features," it said.

President Pervez Musharraf and caretaker Prime Minister Mohammedmian Soomro congratulated scientists and engineers involved in the missile program "on this very important success", the statement said.

Pakistan previously tested the missile in March and again in July. It was first fired in 2005, when its range was only 500 kilometers.

The latest test comes with the safety of Pakistan's estimated 50 nuclear warheads under international scrutiny since Musharraf imposed a state of emergency on November 3.

Pakistan confirmed last month that the United States was helping it ensure the security of its atomic weapons and shrugged off reports of a secret program with Washington as nothing new.

The foreign ministry said the strategic arms were safe and secure under a tight command-and-control structure run entirely by Pakistan, and angrily dismissed fears that they could fall into the wrong hands.

A New York Times report had earlier said that Washington has been helping ensure their security in a top-secret program that has cost the United States almost 100 million dollars since 2001, even though Islamabad refuses to allow US inspectors into its nuclear sites.

Pakistan and neighboring India have routinely conducted missile tests since the two countries carried out tit-for-tat nuclear detonations in May 1998.

However in 2004 they launched a slow-moving peace process aimed at ending six decades of hostility and resolving their dispute over the Himalayan territory of Kashmir, the cause of two of their three wars.

In February, Pakistan and India signed a deal to cut the risk of atomic weapons accidents.

Pakistan did not say if it had informed New Delhi in advance about the latest test. They have an agreement to notify each other about tests of ballistic missiles but not cruise missiles.