Pakistan was in mourning and on high alert Wednesday ahead of the funeral of Punjab provincial governor Salman Taseer, following the country's most high-profile assassination in three years.
The 66-year-old, one of the country's most moderate voices against radical Islam and the encroaching menace of the Taliban and Al-Qaeda, was shot dead by a member of his own security detail outside an upmarket cafe in Islamabad.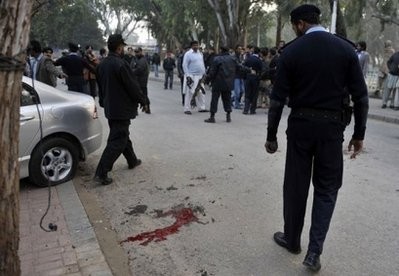 Pakistani policemen secure the site of a fatal attack on Salman Taseer, the governor of Pakistan's most politically important province Punjab, in Islamabad.
Shrouded in a white sheet, his body was flown home overnight from the federal capital to the Punjab seat of government in Lahore for a state funeral ordered by Prime Minister Yousuf Raza Gilani.
Authorities have thrown a ring of steel around the funeral venue to guard against possible unrest after dozens of supporters of the main ruling Pakistan People's Party took to the streets on Tuesday to protest the killing.
"Governor Salman Taseer's funeral prayer will be offered at the Governor's House in Lahore on Wednesday," an official release said.
Gilani, who is facing a fight for political survival, has appealed for calm with memories fresh of widespread riots after the December 2007 assassination of former PPP prime minister Benazir Bhutto.
Investigations into the killing are now focusing on whether the bearded police commando gunman acted alone or as part of a wider conspiracy.
"We will investigate whether it was an individual act or there is some organisation behind it," Interior Minister Rehman Malik told reporters.
He named the assassin as Malik Mumtaz Hussain Qadri, a government-trained commando assigned to the governor on at least five or six previous occasions.
"He confessed that he killed the governor because he had called the blasphemy law a black law," Malik said.
Taseer was outspoken against the Taliban and Islamist militants hunkered down in the country's northwest, who have also made increasing inroads into Punjab in recent years. He also spoke out recently against blasphemy laws.
The United States, which is in a sometimes troubled security alliance with Pakistan in its fight against Islamist insurgents in Afghanistan, said that his killing was a "great loss".
"He was committed to helping the government and people of Pakistan persevere in their campaign to bring peace and stability to their country," State Department spokesman Philip Crowley told reporters.
Rights activists say Pakistan's blasphemy legislation encourages Islamist extremism. The issue shot back to the headlines late last year after a Punjab court sentenced a Christian mother-of-five to death for insulting the Prophet Mohammed.
"Taseer showed himself to be a rare politician, willing to risk his life in espousing an unambiguous position against discrimination and abuse," said Ali Dayan Hasan, senior South Asia researcher at US-based Human Rights Watch.
Analysts said threats to Taseer's life and the assassination underscored how deeply religious extremism had penetrated society, just days after businesses closed across Pakistan to protest against any softening of the blasphemy law.
"Religious extremism has penetrated so deep into society that it has gone into the state system," said political and security analyst Hasan Askari, in reference to the elite commando named as Taseer's killer.
Fears are also rising for the safety of PPP lawmaker and former information minister Sherry Rehman, who has proposed a private member's bill in parliament seeking to soften the blasphemy law.
"Religious extremism was fanned during the strike on December 31 against the governor and Sherry Rehman. Now it will haunt them even more," said Askari.
Government will be paralysed for a three-day period of national mourning, on top of the massive problems facing the PPP-led administration since it lost its majority with the departure of coalition partner the Muttahida Qaumi Movement.
Opposition leader Nawaz Sharif has given the prime minister 72 hours after the mourning period ends to agree to a series of reforms.
Analysts say Gilani will be reluctant to alienate Sharif, worried that his Pakistan Muslim League-N party could call for a vote of no-confidence in the government and so force early elections.